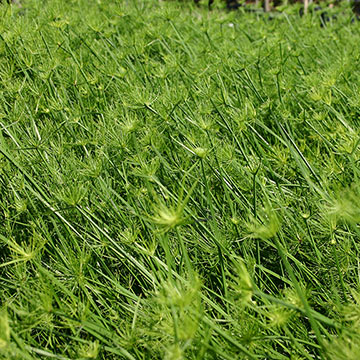 Please Note: Due to variations within species, your item may not look identical to the image provided. Approximate size range may also vary between individual specimen.
Overview
The Dwarf Papyrus Plant, also known as the Dwarf Egyptian Papyrus, is a versatile ornamental plant fantastic for ponds, water gardens, container water gardens or even as a houseplant. It is the dwarf variety of the Giant Papyrus and has strong vertical stems reaching up to 30 inches tall with tufted umbrella-like foliage on the end. The tufts are yellow-green and turn a rich bronze in late summer to add a punch of color to this wonderful architectural plant. The Dwarf Papyrus Plant offers a sensible solution for pond keepers and water gardeners that love the look of the Giant Papyrus but do not have the space to accommodate these towering wetland plants.
Due to its manageable size, the Dwarf Papyrus is an excellent accent plant for decks and patios when planted in tubs or kettles and set in full sun to partial shade. The Dwarf Papyrus is a moisture-loving plant so be sure to keep the roots constantly wet when treated as a house plant or accent plant. When adding the Dwarf Papyrus to your pond or water garden, pot the Dwarf Papyrus Plant in a 2-gallon planting container and set the planter in your pond so it is covered by up to 4 inches of water. The Dwarf Papyrus Plant has a typical spread of 12".
The Dwarf Papyrus Plant has a unique method of propagation. When the stem of the Dwarf Papyrus Plant bends over and the leaflet touches the water, it will eventually create new stems and plantlets. If you want to speed up this process, remove a stem from the parent plant and trim the leaflets at the top of the stem. Submerge the trimmed leaflet end of the stem in water (making sure the "stick" end of the stem is out of the water). In a few weeks new stems will form from the submerged leaflet. Zones 9-11.
Approximate Purchase Size: 8" to 10"
Supplies You May Be Interested In
Customer Testimonials
No testimonials have been submitted for this product.