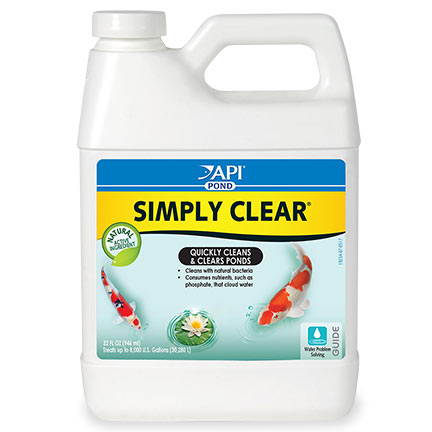 Overview
| | |
| --- | --- |
| * | Dual-action conditioner both cleans and clarifies pond water |
| * | Natural bacteria break down algae, sludge, and fish waste |
| * | Quickly clears pond water and reduces maintenance |
Murky, cloudy pond water be gone! This fast-acting product quickly cleans and clarifies pond water. API POND SIMPLY CLEAR features a super concentrated blend of beneficial bacteria that feed on organic compounds and break down pond sludge for maximum cleaning power. 16 oz treats 4,000 gallons.
Directions:
Shake Well.
Initial dose at Spring Start-up and End of Season dose: Add 4 tablespoon (60 ml) per 250 US gallons of pond water twice a week for two weeks.
Maintenance dose: Add two tablespoon (30 ml) per 250 US gallons of pond water every two weeks.
Keep out of the reach of children. Safe for fish and pond plants, as well as surrounding wildlife and pets when used as directed. For ornamental pond use only.
General Information

Highly concentrated bacteria break down dead algae, sludge, and fish waste
Quickly clears cloudy water
Reduces pond maintenance
Fast-acting formula
Customer Testimonials
No testimonials have been submitted for this product.