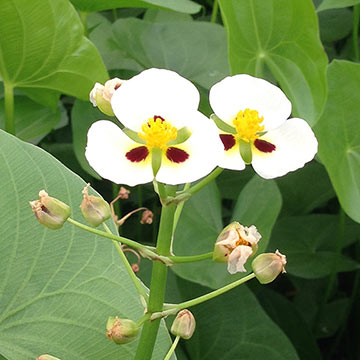 Due to variations within species, your item may not look identical to the image provided.
Sagittaria montevidensis
(Sagittaria montevidensis)
Additional locales and sizes may be available!


Pond Plant Selection Guide
Let us help you! Use our helpful chart to choose your pond plants.
Pond Plant Zone Map
What pond plants will survive where you live? Use our helpful Zone Map to choose wisely.
Overview
Sagittaria montevidensis, also known as Spongy Arrowhead, Hooded Arrowhead, Long-lobed Arrowhead, Mississippi Arrowhead, Giant Arrowhead or Aztec Arrowhead, has large, stiff, spear-shaped leaves that are produced at the end of thick stems. They may grow 2 to 4 feet tall and should be kept in 1 to 6 inches water depth. Sagittaria montevidensis flowers bloom all season, are white with a large dark red spot at the bottom of each petal and have a yellow pistil and stamen.
Sagittaria montevidensis is best planted in 2-gallon or larger containers and placed in sun to part shade. The seeds are normally prolific and help the plant spread in the wild. To reproduce yourself, gather seeds and plant in moist flats. Once sprouting, the seedling's crowns should be kept under water.
Sagittaria montevidensis can be wintered in cold zones by moving the plant into a greenhouse; there it will experience dormancy. Zones 7-11.
Approximate Purchase Size: 12" to 18"
Supplies You May Be Interested In
Customer Testimonials
No testimonials have been submitted for this product.