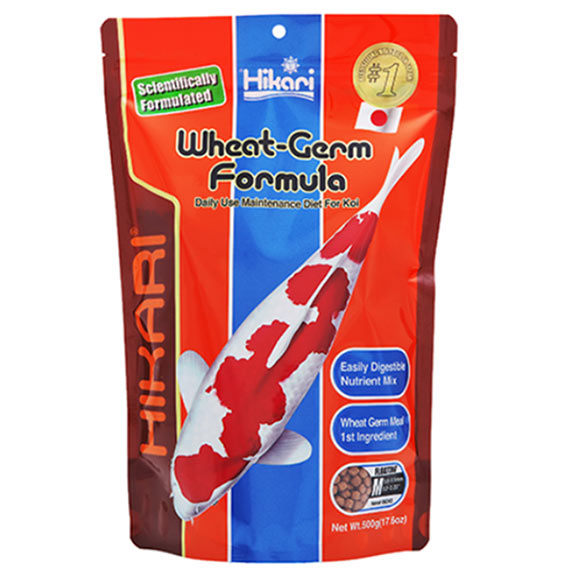 Overview
| | |
| --- | --- |
| * | Wheat germ diet for koi and pond fish during cooler water temperatures |
| * | Choose floating or sinking pellets to accommodate fishes' feeding preference |
| * | Fortified diet with stabilized Vitamin C to promote fish resistance to stress |
Wheat germ koi food formulated for superior nutrition during cooler water temperatures. Highly digestible and easily assimilated fish food promotes healthy growth while minimizing waste. Made with quality ingredients to improve brilliance and luster of your koi. Fortified with stabilized Vitamin C and other nutrients to promote resistance to fish stress and infectious disease associated with periods of cooler water temperatures. Will not cloud the water. Protein 32%, fat 4%, and fiber 4%. 39-59°F+
Guaranteed Analysis:
Vitamin A

8,500 IU/kg

Vitamin C

120 mg/kg

Vitamin D3

1,700 IU/kg

Vitamin E

1,000 mg/kg

Vitamin K

2.5 mg/kg

Copper

13 mg/kg
Ingredients: Wheat-germ meal, krill meal, fish meal, wheat flour, rice germ meal, bran, gluten meal, soybean protein, enzyme, monosodium glutamate, garlic, vitamins and minerals including stabilized Vitamin C.
Feeding Suggestions
When water temperature is consistently below 40 degrees Fahrenheit, stop feeding. Once water temperature is consistently above 40 degrees, but below 60 degrees, feed once daily. If the water temperature is consistently above 60 degrees but below 70 degrees, feed twice daily during the warmest part of the day. When water temperature is consistently above 70 degrees, feed two to four times daily.
Do not exceed the amount your fish will completely finish within three to five minutes of feeding. Remove all remaining food after the feeding period to avoid over-feeding.
General Information
Benefits Of Wheat Germ
It takes a full ton of wheat germ to get 100g of wheat germ oil, an excellent source of Vitamin E, linoleic acid and other essential nutrients. Wheat germ oil has more Vitamin E than other cereal oils and more of the Vitamin E alpha component essential for long-term health and vigor.
Customer Testimonials
No testimonials have been submitted for this product.