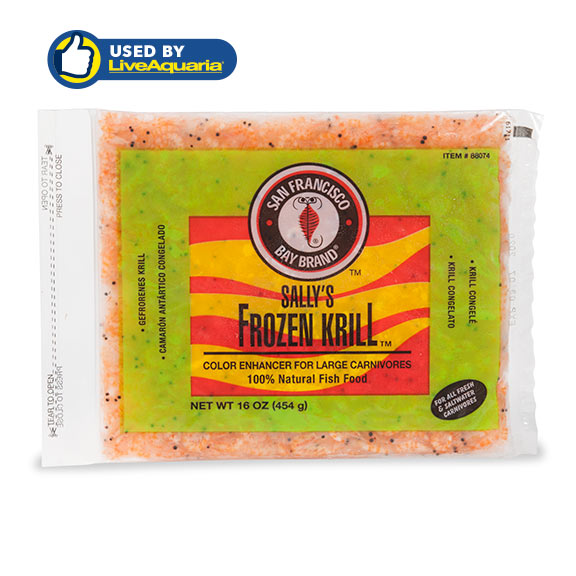 Overview
| | |
| --- | --- |
| * | High quality frozen krill great for large aquarium carnivores |
| * | Natural nutrition of krill adds diversity to aquarium fish diet |
| * | Antarctic krill are a great source of protein & color-enhancers |
Satisfy carnivore cravings with succulent whole krill by San Francisco Bay Brand. Frozen fish food eagerly eaten by freshwater and saltwater carnivores and omnivores. Naturally nutritious krill harvested from Antarctic waters are a great source of protein, Omega-3s, and astaxanthin (a carotenoid responsible for the vibrant coloration of tropical fish). Offer San Francisco Bay Brand Frozen Krill whole for large aquarium fish or break into smaller pieces to feed smaller fish, invertebrates and other aquarium inhabitants. Krill are an excellent alternative to live feeder fish. Come in an easy-to-store 16 oz frozen flat pack, 32 oz value pack (2-16 oz packs), or 96 oz mega value pack (6-16 oz packs).
Feeding Instructions: Break or cut small portions and thaw in cup, then pour in aquarium. Feed often, but only what can be consumed in three minutes. Remove any uneaten food. Never overfeed. Keep frozen.
Important: Microwaving or thawing in hot water is not recommended, as this breaks down the nutrients contained in frozen fish food.
Recommended For Saltwater: Triggers, Puffers, Groupers, Eels, Lionfish, Angels and others.
Freshwater: Central & South American Cichlids, Piranha, Catfish, Koi, Aquatic Turtles and others.
Ingredients: Krill, Water, and Sodium Alginate.
Guaranteed Analysis
Crude Protein

6.6% min

Crude Fat

3.2% min

Crude Fiber

0.9% max

Moisture

90.7% max

Ash

1.0% min

Phosphorus

0.1% max
Customer Testimonials
No testimonials have been submitted for this product.