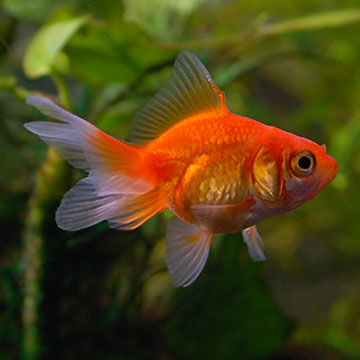 Please Note: Due to variations within species, your item may not look identical to the image provided. Approximate size range may also vary between individual specimen.
Overview
The Red Fantail Goldfish is a study in exotic and elegant simplicity. Painted in deep oranges and reds, the Red Fantail Goldfish has contrasting white, semi-transparent portions on its flowing tail. The Red Fantail Goldfish, like other Fantails has a single dorsal fin and a distinct forked caudal fin, which forms a symmetrical pair resembling butterfly wings. All fins are well proportioned and slightly rounded.
As a member of the carp family, the Red Fantail Goldfish is generally quite hardy. It does well in aquariums 30 gallons or larger, as well as backyard garden ponds of 180 gallons or more. In addition to a fine gravel bottom or well-rounded river rocks, the Red Fantail will appreciate hardy, cold water plants. Keep in mind that goldfish are diggers and will scatter the fine sand onto leaves, injuring thin and less hardy plants.
There appears to be a definite courtship ritual when goldfish breed. Breeding often results in up to 1,000 eggs, with fry hatching in five to six days. They should be fed small pieces of live or prepared foods designed for egg-laying fish.
The Red Fantail Goldfish is an omnivore and will eat all types of dried and live foods. However, limit protein intake to 30% of the diet. Goldfish flake or pellet food will provide these fish with the proper nutrition.
Approximate Purchase Size: Small 3/4" - 1-1/2" Medium 1 1/2" to 2 1/2" Large 4" to 5"
Supplies You May Be Interested In
Customer Testimonials
Emeila
Bridgeport , CT
i have a red fantail at home and is very happy in 10 gallon tank
April A.
Smithville , OH
Beautiful little fish. Arrived in perfect condition, lively and lovely. I've had them for several months now in an established tank. They're growing quickly and haven't had any issues.