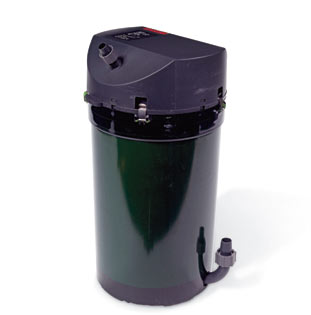 Overview
| | |
| --- | --- |
| * | Constant water circulation and efficient filtration enable optimal water quality |
| * | A variety of included filter media traps debris and promotes effective biological filtration |
| * | Quiet, efficient performance in a compact unit |
| * | Proven, dependable standard of aquarium canister filters |
Eheim guarantees constant water circulation, mechanical/biological filtration, and oxygen enrichment for a healthy aquarium. The flow and fully usable filter volume have been precisely matched with the proper filtering media to ensure optimum water quality. Compact, extremely quiet pump head. Double-disconnect valves are included for easy maintenance. Filter media container facilitates convenient filling and cleaning of filter media. One chamber design allows for the greatest flexibility in media set up for biological, chemical, and mechanical filtration.
Includes the following media: Eheim Substrat Pro - a large surface area biomedia and Eheim Mech - to disperse the water and trap large debris. Includes tubing. 1 year warranty. Additional Double Tap Connectors available.
Eheim Plus
2213-37
Eheim Plus
2215-37

Tank Size

66 gallons/
250 liters
93 gallons/
350 liters

Pump Output

116 gph

163 gph

Filter Circulation

102 gph

134 gph

Filter Volume

3/4 gallon

1 gallon

Power Consumption

8 Watts

15 Watts

Filter Dimensions

160 mm x 355 mm

185 mm x 370 mm
Filter Maintenance: Maintaining your filter is best done while you are changing your filter media. Rinse the filter canister and the two lattice screens with water and remove any dirt residues. Before the pump head is replaced, check the rubber o-ring. If it is worn, it should be replaced immediately. If the o-ring is not worn, it should be moistened so that the pump head can be pressed down without difficulty. The water inlet of the canister should be cleaned with a cleaning brush. At longer intervals (every six months or when build up of debris is seen), the hose system should be cleaned. The pump of your EHEIM filter also requires some regular maintenance. Remove all parts carefully and clean all parts with a mild dishwashing soap and rinse thoroughly with water making sure that no soap remains. Clean the cooling pipe and the impeller chamber with a brush. Replace all parts in reverse order of dissemble. For model 2213, while replacing the cooling pipe shaft, ensure that it is pushed in until it is flush and locked into place. IMPORTANT: if your pump is extremely dirty and the impeller and associated parts are hard to remove, soak the complete pump head in warm water and mild dishwashing soap overnight. You should never force the removal of these parts, as they are fragile.
Filter media
Filter media fulfill various functions - mechanical, biological, adsorptive and chemical filtration. They remove dirt particles and suspended floating matter from your aquarium and ensure the biological conversion of toxic waste or the chemical alteration of the water. Ideal water conditions very much depend on the correct use of filter media.
EHEIM filter pads are used to separate the different filter media layers in standard filters.
EHEIM filter cartridges made of special foam materials provide a large filter surface. They can be changed in a few simple steps and after their "running in" time they not only function mechanically but also biologically. EHEIM active carbon cartridges are also excellent for adsorption.
EHFISYNTH filter pad for mechanically fine cleaning, especially for EHEIM professional external and thermo filters.
Media Maintenance: Your filter media needs to be cleaned every 3-6 months. You should change 1/3 to­ 2/3 of the EHFISUBSTRAT every 6-12 months. The EHFISYNTH pad should be changed with every cleaning and the EHFIFIX pad should be changed when it becomes flattened or every year.
| | |
| --- | --- |
| Filter Media | Purpose |
| Ehfisynth | A fine mechanical filter material made of phenol free neutral filter wool that traps tiny particles of dirt. |
| Ehfisubstrate | To create biologically sound water, as found in nature, you need a large surface area for bacteria to grow on. With an amazingly large surface area of 450 m2 /liter ehfisubstrate undeniably offers the ideal conditions. |
| Ehfifix | This mechanical filter pad is placed between Ehfisubstrate and Ehfimech to trap debris and acts as a divider. |
| Ehfimech | This coarse mechanical filter media has a hollow ceramic design to create eddies which disperse the water into many paths and traps large debris while creating an even flow of water for subsequent layers. |
Customer Testimonials
No testimonials have been submitted for this product.