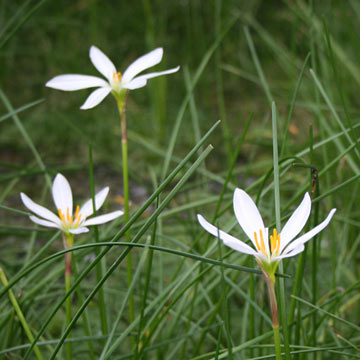 Due to variations within species, your item may not look identical to the image provided.
Zephyr Lily
(Zephyranthes candida)


Pond Plant Selection Guide
Let us help you! Use our helpful chart to choose your pond plants.
Pond Plant Zone Map
What pond plants will survive where you live? Use our helpful Zone Map to choose wisely.
Overview
The Zephyr Lily, also known as the Rain Lily or the Water Crocus, grows up to 12 inches tall and wide. They have 6-petal white flowers that measure between 1 and 3 inches across and bloom from late summer through fall. Zephyr Lilies should be potted in 5-gallon containers and placed in full sun or partial shade. Water depths of 1 to 3 inches are recommended, but they will grow in moist soil as well. In colder zones, bring the plant to a greenhouse or indoors with adequate light and water before the first frost and do not water them again until the spring. Repot in the garden when outdoor temperatures have steadied to 70°F or higher in late spring or early summer. This plant will do best in zones 8 and higher, but will survive in zones 6 and 7.
Approximate Purchase Size: 12" to 18"
Customer Testimonials
No testimonials have been submitted for this product.
Supplies You May Be Interested In