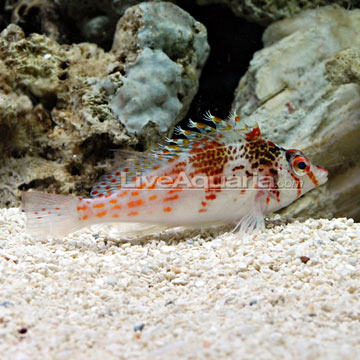 Please Note: Due to variations within species, your item may not look identical to the image provided. Approximate size range may also vary between individual specimen.
Overview
This very unique looking Hawkfish is white with red-brown spots that run diagonally along the body. They have small tufts of bright yellow on the tips of their dorsal fin ray called
cirri
. They are also known as the Spotted Hawkfish but should not be mistaken for
Cirrhitichthys aprinus
.
A 30 gallon or larger aquarium with plenty of hiding places is acceptable for this hardy and aggressive fish. It should not be kept with larger more aggressive hawkfish. Although it eats small fish and shrimp, with caution, it can make an excellent reef inhabitant.
The Falco Hawkfish diet should include a variety of marine meats, frozen preparations, and live feeder shrimp.
Approximate Purchase Size: Small 3/4" to 1-1/4" Medium 1-1/4" to 2" Large 2" to 3"
Supplies You May Be Interested In
Customer Testimonials
Paul H
Madison , ME
I bought one of these fish one year ago. He does wonderful in my 75 gal. reef tank/w other fish. He is really a sweetheart and minds his own business. I love to see him constantly darting from place to place. A very active, healthy, beautifully colored striking addition to my reef. Thanks again,doc's.
Daniel E
Jacksonville , NC
This is a wonderful fish. The most admirable characteristic of my Hawk is that he will swim up to the glass and follow you around the aquarium. He is fast to eat feeder fish and shrimp. This is also the only fish in my tank besides a Zebra Lion that never came down with ich when I had a bad spout of it that wiped out most of my stock.
Shelley
TN
We had an adult Falco whom we had to find a home for. He attacked and killed our Dragon Goby and continually chased and eventually injured one of my Green Chromis. Personalities vary with this fish.
Patty W
Burnie
we bought a falco its had a bit of a hard life first the trigger fish we have wouldnt leave him alone and then our lionfish tried to eat him he has not much tall left but he is a strong fish very happy.
Matt W
Newark , DE
Very cool fish. Minds his/her own business, doesn't bother any of the other fish. Seems to like watching people as much as people like watching him. Cool looking and fun to watch hop around the tank. Probably my favorite fish I have.
Jason P
Staunton , VA
The one I got was aggressive. Was nipping at my damsels since they're smaller. 70 gallon tank with plenty of rock. Otherwise fun fish to watch.