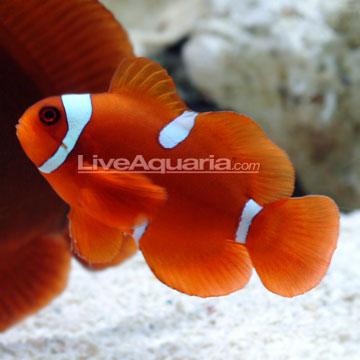 Please Note: Due to variations within species, your item may not look identical to the image provided. Approximate size range may also vary between individual specimen.
Overview
The Maroon Clownfish, also known as the Spine-Cheeked Anemonefish or Maroon Anemonefish, has a bold, red body color with a broad white stripe on the forehead, and white stripes on its midsection and in front of the anal fin.
Captive bred clownfish are very hardy and durable fish making them a perfect addition for the novice or seasoned aquarist. The Maroon Clownfish is a good candidate for a reef aquarium. The Maroon Clownfish are the most territorial of all clownfish species. Maroon Clownfish are very sensitive to elevated levels of copper, and should never be exposed to levels near or above .
Captive bred clownfish are easy to breed in the home aquarium. The females will be the largest of the pair, and two fish will usually stay close to each other in the aquarium. These fish are egg layers and will deposit the eggs on a flat surface, and defend the eggs from other tank mates. The eggs will normally hatch in 6-11 days depending on the temperature. The fry must be reared in a separate aquarium on a diet of rotifers then baby brine shrimp.
The Maroon Clownfish diet consists of meaty items such as frozen shrimp and herbivore preparations.
Do not move the Maroon Clownfish with a net as its cheekspines will become entangled. Use a specimen container if capture is necessary.
Approximate Purchase Size: Small 3/4" to 1-1/4" Medium 1 1/4" to 2"
Supplies You May Be Interested In
Customer Testimonials
Jacob Morgish
Miami , FL
It was my first fish for my first tank and it is still alive and well. On the third day it started eating and now is perfectly fine. My Maroon Clown shares a tank with two Bar Gobies, a Firefish, a Mandarin Goby, a Blue Sea Star, and two Sally Lightfoot Crabs.
Jonathan Zdziarski
Milledgeville , GA
My Maroon Clownfish is a very small, healthy, pretty fish. Tank-raised is definitely the way to go with clowns, as this one seems far less stressed than any other clowns I've owned.
Richard Lilly
Corpus Christi , TX
Mine has a wonderful personality. He likes to look at people, and socialize. He doesn't however like the tank being cleaned or my hand in the aquarium at anytime. He bites me constantly. It doesn't hurt, but if he sneaks up on you, it will startle you. He is a great addition to my tank.