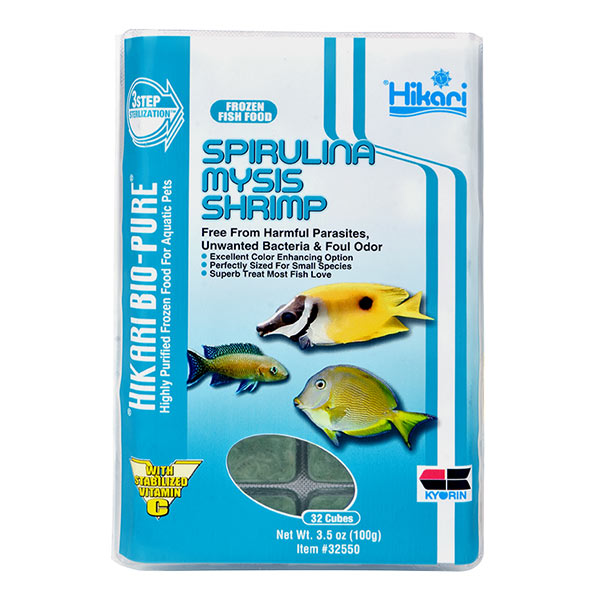 Overview
| | |
| --- | --- |
| * | Naturally contains fatty acids and fiber beneficial to most freshwater and marine fish |
| * | A treat almost any fish can readily consume and digest, especially herbivorous fish |
| * | A combination of vitamins, spirulina algae and live mysis shrimp you cannot duplicate at home |
High-quality flash frozen and sterilized mysis shrimp harvested at their nutritional peak. Hikari® Bio-Pure® Frozen Spirulina Mysis Shrimp offers a natural source for fatty acids, enhanced with spirulina algae for excellent coloration and form. Highly purified frozen fish food retains desirable natural flavor, shape, and nutrition while eliminating harmful parasites and bacteria and foul odors. Excellent treat almost any fish will eagerly accept. Easy to use no touch cubes make measure feeding a snap.
Proprietary Hikari Bio-Pure 3-step sterilization process offers the world's cleanest frozen foods available today. Hikari Bio-Pure Frozen Blood Worms are gut-loaded with Bio-Encapsulated Multi-Vitamins to offer better-than-live-food nutrition. Proprietary Mega-Power Freezer helps lock in all the nutrition your fish need while maintaining the natural color, taste and texture. Hi-tech and highly automated packing machines help maintain product integrity and minimize pieces and parts common with competitive products.
Feeding Instructions:
Feed no more than your fish will consume within 30-45 seconds no more than twice daily. Avoid over-feeding as it can cause water quality issues.
Ideal For:
Freshwater and marine fish like cichlids, angels, triggerfish, wrasse and seahorses too.
Ingredients:
Mysis shrimp, water, spirulina, vitamin B12 supplement, pyridoxine hydrochloride, L-ascorbyl-2-polyphoshate (stabilized vitamin C), carotene, riboflavin, thiamine mononitrate, biotin, choline chloride, folic acid, calcium pantothenate, inositol, niacin.*
* Because of Hikari's commitment to providing the highest quality nutrition available, some differences in ingredients may occur due to regular formula updates.
Guaranteed Analysis:
Crude Protein

4.2% min

Crude Fat

0.3% min

Crude Fiber

0.5% max

Moisture

94.5% max

Phosphorus

0.01% min

Ascorbic Acid

10 mg/kg min

Riboflavin

2 mg/kg min

Vitamin B12

200 µg/kg min
Please note:
Handling a frozen food that is derived from a live animal can cause the same allergic reaction possible by handling the live animal itself. To avoid potential problems, always wash your hands immediately after use and avoid contact with your nose and mouth prior to washing.
Customer Testimonials
No testimonials have been submitted for this product.