Hikari® Bio-Pure® Freeze Dried Brine Shrimp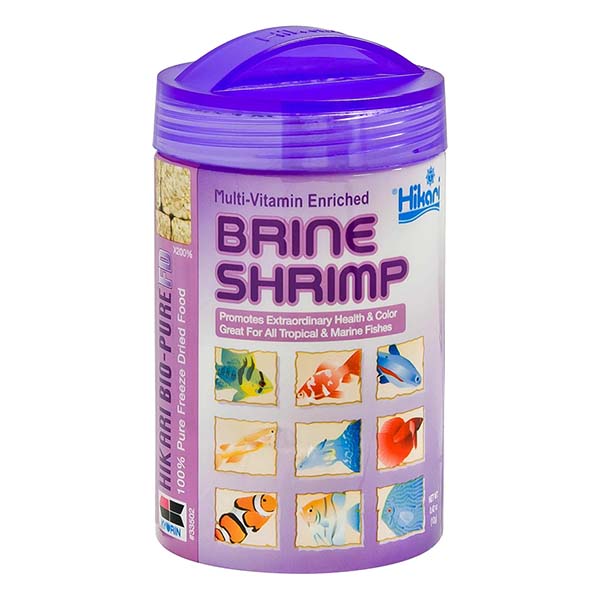 Hikari® Bio-Pure® Freeze Dried Brine Shrimp
Overview
High quality freeze-dried brine shrimp fortified with bioencapsulated multivitamins for aquarium fish
Excellent source of natural protein perfect to offer as a treat to most freshwater aquarium fish
Pharmaceutical-grade freeze-drying process ensures exceptional color, texture, and taste of fresh brine shrimp
High-quality freeze-dried brine shrimp perfect to offer as a flavorful high protein treat for most freshwater aquarium fish. Hikari Bio-Pure Freeze Dried Brine Shrimp are readily accepted by most freshwater aquarium fish thanks to a superior pharmaceutical-grade freeze-drying process that ensures exceptional natural nutrition, color, texture, and taste of fresh brine shrimp. Fortified with bioencapsulated multivitamins, Hikari Bio-Pure Freeze Dried Brine Shrimp offer enhanced nutrition superior to live brine shrimp and are free of harmful parasites and bacteria. Hikari Bio-Pure Freeze Dried Brine Shrimp soften quickly in water making them a delectable and irresistible treat for aquarium carnivores.
Ideal For: Most freshwater and limited marine species especially eels, livebearers, American cichlids, discus and selected aquatic reptiles.
Feeding Instructions: Provide as a treat up to three (3) times daily the amount your aquatic pet will completely consume within a minute.
Ingredients: Brine Shrimp, Vitamin E supplement, L-ascorbyl-2-polyphoshate (stabilized Vitamin C), thiamine mononitrate, riboflavin (Vitamin B2), pyridoxine hydrochloride, and Vitamin B12 supplement.
Guaranteed Analysis
Crude Protein

47.0% min

Crude Fat

5.5% min

Crude Fiber

0.5% max

Moisture

6.0% max

Phosphorus

0.1% max

Ascorbic Acid

60 mg/kg min

Riboflavin

20/kg min

Vitamin B12

2,000 µg /kg min
Please note: Handling freeze-dried foods derived from live animals can cause the same allergic reaction possible by handling the live animal itself. To avoid potential problems, always wash your hands immediately after use and avoid contact with your nose, eyes, and mouth.
Hikari® Bio-Pure® FD products never contain artificial colors or preservatives. Use before the best before date. After opening, please keep the container out of direct sunlight, high heat, or humidity as this can cause the contents to degrade rapidly. For maximum success the contents should be used within 90 days of purchase and be kept tightly closed when not in use.