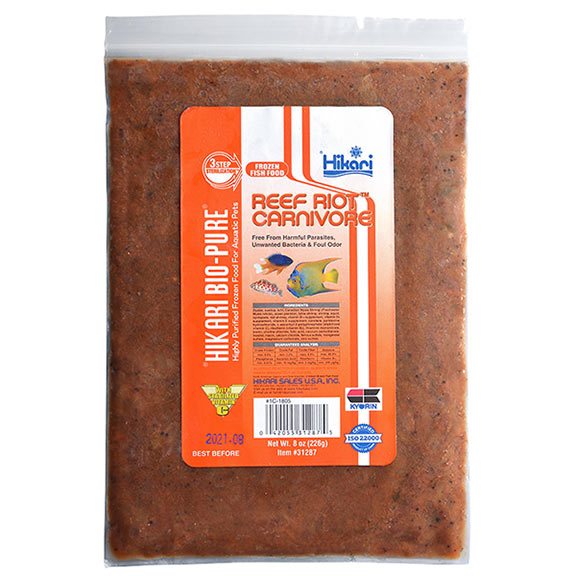 Overview
| | |
| --- | --- |
| * | Delicious, supplementary "blizzard-style" food for carnivorous reef inhabitants |
| * | Formulated with Canadian Mysis Shrimp from Lake Okanagan, ocean plankton squid, brine shrimp, cyclopods, krill, and more |
| * | Rapidly frozen using our proprietary process, meaning you can offer your fish something as close to live as possible |
This delicious, "blizzard-style" supplemental food will have your carnivorous reef inhabitants swimming for joy. Hikari Bio-Pure® Reef Riot Carnivore™ Frozen Fish Food offers an ideal ingredient mix for reef aquariums! This ultra-clean, low-odor reef blend is formulated using a number of the Bio-Pure frozen items you have come to love, including Canadian Mysis Shrimp from Lake Okanagan, ocean plankton squid, brine shrimp, cyclopod+ and krill, whole oyster, scallop, and red shrimp.
The formula is gut-loaded with Bio-Encapsulated Multi-Vitamins and fatty acids to offer better-than-live nutrition. Hikari's proprietary Power Freezer helps us lock in all the nutrition your fish need while maintaining the natural color, taste, and texture.
Reef Riot Carnivore™ offers the benefits of Bio-Encapsulated Multi-Vitamins and stabilized vitamin C. The 3-Step Sterilization process means the food is free from unwanted bacteria and harmful parasites. Plus, the formula provides linolenic acid, omega-3 fatty acid, omega-6 fatty acid, arachidonic acid, EPA and DHA which are all necessary for optimal marine creature health.
Feeding Instructions:Feed the amount your fish will consume within a few minutes. Always avoid over-feeding. Some residual oil is an indication of the beneficial components of this product. Rinse before use if you prefer to remove some level of these oils but understand you are reducing the nutritional value your corals might thoroughly enjoy.
Care should be taken to avoid over-feeding and any uneaten food should be removed after the feeding period to avoid water quality issues and the health problems that can result. Additionally, feeding live or frozen foods can spoil your aquatic pet and make feeding a formulated food more difficult. Live or frozen foods should be used as a treat to "mix up" your nutritional offering, not act as a substitute for good nutrient selection that offers a full offering of necessary nutrition.
Please note: Handling a frozen food that is derived from a live animal can cause the same allergic reaction possible by handling the live animal itself. To avoid potential problems, always wash your hands immediately after use and avoid contact with your nose and mouth prior to washing.
Ingredients: Oyster, scallop, krill, Canadian Mysis Shrimp (Freshwater Mysis relicta), ocean plankton, brine shrimp, shrimp, squid, cyclopods, red shrimp, vitamin B12 supplement, vitamin D3 supplement, vitamin E supplement, carotene, pyridoxine hydrochloride, L-ascorbyl-2-polyphoshate (stabilized vitamin C), riboflavin, thiamine mononitrate, biotin, choline chloride, folic acid, calcium pantothenate, inositol, niacin, calcium chloride, ferrous sulfate, manganese sulfate, magnesium carbonate, zinc sulfate.
Guaranteed Analysis:
Crude Protein.....min. 9.5%
Crude Fat.....min. 1.2%
Crude Fiber.....max. 8.0%
Moisture.....max. 86.0%
Phosphorus.....min. 0.01%
Ascorbic Acid.....min. 10 mg/kg
Riboflavin.....min 2 mg/kg
Vitamin B12.....min. 200 µg/kg
Customer Testimonials
No testimonials have been submitted for this product.