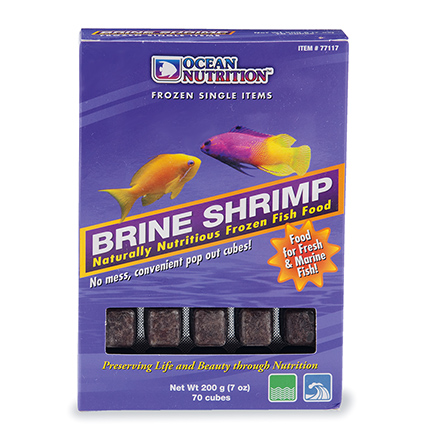 Overview
| | |
| --- | --- |
| * | Rich in protein and supports coloration |
| * | Irresistible food for freshwater and saltwater aquarium omnivores |
| * | Quickly frozen to ensure the brine shrimp stay whole and nutritious |
Tropical aquarium fish will excitedly dine on Ocean Nutrition Frozen Brine Shrimp Fish Food. Carefully cleaned to ensure product quality and food safety, this nutritious frozen fish food contains high-quality brine shrimp enriched with the unique combination of spirulina and garlic. Highly digestible spirulina algae helps support the natural colors of your fish and helps stimulate growth while palatable garlic helps stimulate the appetite of reluctant and finicky eaters. Flash-freezing process results in whole animals and minimal loss of nutrients. Comes in an easy-to-store 7 oz pop-out cube pack or 35 oz value pack (5-7 oz packs). Each 7 oz package contains (70) 1/2" cubes.
Use the easy-to-dispense cube tray to drop frozen brine shrimp into your aquarium. The melting cubes slowly release whole brine shrimp that appear to come alive in your aquarium. Ocean Nutrition Frozen Brine Shrimp Fish Food is a great frozen fish food option for all omnivorous and carnivorous fish (freshwater and saltwater), including discus, platys, angels, tetras, barbs, catfish, swords, mollies, gouramis, rainbows, freshwater sharks, marine angels, clownfish, tangs, wrasses, butterflies, gobies, and more.
Feeding Directions
Fish should be fed two to three times a day. Only feed the amount that your fish will consume in five minutes. Thawing the cubes is not recommended as it is designed to maintain form throughout the recommended feeding time frame. Simply drop frozen cube into tank. Remove any uneaten food.
Ingredients:
Brine shrimp, water, guar gum.
Guaranteed Analysis:
Crude Protein

4.9% min

Crude Fat

0.1% min

Crude Fiber

0.8% max

Moisture

91.6% max

Ash

1.2% max

Phosphorus

0.1% min
Customer Testimonials
No testimonials have been submitted for this product.