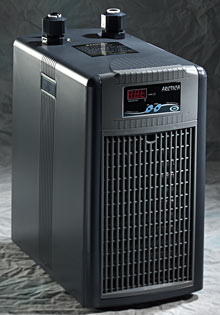 Overview
| | |
| --- | --- |
| * | Easy-to-install in-line chiller models require no hard plumbing |
| * | Energy efficient titanium heat exchange coils |
| * | Integrated circuit temperature control system for convenient push-button control |
An affordable solution to effectively lower and regulate water temperature. Arctica Chillers incorporate state-of-the-art titanium heat exchangers found in larger systems to guarantee stable and consistent temperatures. Unlike other models, condenser grill located in the front ensures easy maintenance for reliable performance. Compact space-saving design houses a powerful, quiet, energy-efficient cooling system. Easy-to-use push button digital temperature control system automatically maintains the desired set temperature within ±1ºF clearly shown on bright Liquid Crystal Display. Barbed in-line connections (1/2", 5/8", 3/4" included) for quick and convenient installation. Requires appropriately sized water pump and tubing (sold separately).
Ambient Temperature Range: 50°F - 95°F.
HP
Capacity
(BTU/hr)
In/Out
Flow Rate
in gph
(min/max)
Tank
Size
Dimensions
1/15

900

1/2"

110/160

Up to 40

7.7" x 12.6" x
14.1"
1/10

1270

1/2", 5/8",
3/4" Barbed

240/960

Up to 130

9-3/4" x 16-1/2" x
18-1/2"
1/5

2400

1/2", 5/8",
3/4" Barbed

480/1320

180

9-3/4" x 16-1/2" x
20-7/8"
1/4

3000

1/2", 5/8",
3/4" Barbed

480/1920

260

9-3/4" x 16-1/2" x
20-7/8"
1/3

4000

1/2", 5/8",
3/4" Barbed

480/2400

340

13-5/8" x 15-5/8" x
17-5/8"
Features:
Titanium Heat Exchanger

Unique titanium coil design allows for maximum contact exposure.
Powerful cooling system guarantees stable consistent temperature.
Titanium coils are the most efficient for heat exchange.
Corrosion resistant.
Anti-freezing system will not allow the heat exchanger to freeze.
Contains safe ozone-friendly refrigerant (R-134A).

Unique Condenser Layout

Condenser is located in the front of the chiller to draw cool air from the front and exhausts warm air from the back.
Allows direct access to clean condenser grill without tools or having to take chiller apart.

Full Auto Digital Temperature Control System

Built-in thermostat automatically maintains the desired set temperature within ±1ºF.
Bright easy-to-read digital LCD can be read day or night.
Smart memory chip restores to last set temperature after power failure.

Energy Efficient

The highest British Thermal Units (BTU) heat removal capacity with the lowest amperage draw.

Lowest Noise and Vibration Level
Small Footprint

Sleek, compact, space-saving design.

Side Handles

ABS molded handles allow for easy lifting and moving.

2-Year Manufacturer's Warranty (70391 has a one (1) year manufacturer's warranty)
Inline Plumbing
Requires no hard plumbing for quick and convenient installation.
1/2", 5/8", 3/4" barbed in-line connections included to accommodate a variety of pump options.
Installation:
Place the chiller in a well-ventilated location away from sources of heat. Make sure that the evacuation holes, indispensable for air intake, are at least one foot away from any obstacle.
How to Connect Hose
Unscrew hose nut and remove rubber gasket.
Pull out cork stopper and discard.
Insert hose elbow into hose nut.
Insert hose elbow into rubber gasket.
Screw onto chiller and hand tighten.
Connect flexible tubing over threaded portion of hose elbow.
Fasten hose clamp to secure.
Startup:
Once all the connections are made, circulate water through chiller before turning unit on.
Check all connections for leaks.
Verify electricity rating and plug power cord into a dedicated electrical outlet.
This unit has been factory set at 77ºF.
The digital display will read the current water temperature.
The light indicator will begin to blink.
Chiller will automatically turn on within 3 minutes.
Your chiller has now been activated.
Changing Temperature Setting:
Keep pressing the UP button for about 5 seconds until the decimal point blinks. Depress UP button when the number blinks. Adjust the value by pressing the button sequentially until desired temperature is achieved. The renewed value will be automatically set and memorized in 10 seconds.
Maintenance:
*Note: Turn off chiller and disconnect before performing maintenance operations. For optimum chiller operation, perform maintenance every 6 months.
Cleaning the Condenser
Remove suction grill and clean the ribbed condenser with a vacuum cleaner or condensed air.
Cleaning the Heat Exchanger
To eliminate deposits of impurities, bacteria, or metabolic products not captured by the filter, periodic cleaning of the heat exchanger should be carried out. Introduce clean water from the outlet to flush system.
Customer Testimonials
No testimonials have been submitted for this product.