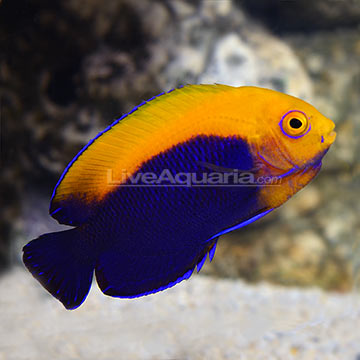 Due to variations within species, your item may not look identical to the image provided.
Overview
The Fireball Angelfish is also known as the Flameback Pygmy Angelfish, Flameback Angelfish, and Brazilian Flameback Angelfish. It is often confused with the African Flameback Angelfish (
Centropyge acanthops
).
The Fireball Angelfish originates in the Caribbean and can be distinguished from its African counterpart by its dark blue caudal fin (tail). The body is a brilliant to dark blue with a dorsal swatch of yellow-orange extending from the nose to the end including the dorsal fin. The eye is large and circumscribed in blue.
The Fireball Angelfish can damage reef systems since it is prone to nip at stony and soft corals (sessile invertebrates) and clam mantles. It requires a 20 gallon or larger tank with multiple hiding places and live rock for grazing.
The diet should include Spirulina, marine algae, high-quality angelfish preparations, mysis or frozen shrimp, and other high-quality meaty foods.
Approximate Purchase Size: Small: 1-1/4" to 1-3/4"; Medium: 1-3/4 to 2-1/4"; Large: 2-1/4" to 3"
Supplies You May Be Interested In
Customer Testimonials
No testimonials have been submitted for this product.