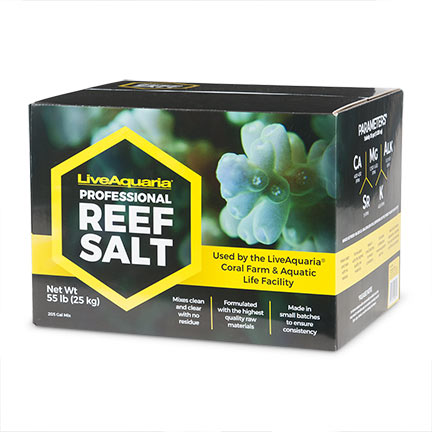 Overview
| | |
| --- | --- |
| * | Professional synthetic salt mix ideal for all saltwater aquariums |
| * | Used by the LiveAquaria Coral Farm & Aquatic Life Facility |
| * | Mixes clean and clear, producing superior, residue-free saltwater |
| * | Made in small batches to ensure consistency |
| * | Formulated with the highest quality raw materials to meet LiveAquaria specifications |
Experience the difference of superior, residue-free saltwater! LiveAquaria 205-Gallon Mix Professional Reef Salt, developed to meet the strict requirements of the LiveAquaria Coral Farm & Aquatic Life Facility, delivers clear results you can see. Highest-purity raw materials in consistent (uniform) particle size dissolve quickly into solution without leaving behind any unwanted residue.
LiveAquaria Professional Reef Salt contains all essential major, minor, and trace elements found in natural seawater. Enhanced calcium, magnesium, and potassium levels, in carefully balanced ratios, support vibrant growth in reef aquariums. Fortified buffer levels aid in establishing stable pH shortly after mixing. Nitrate, phosphate, and ammonia free.
LiveAquaria Professional Reef Salt is formulated utilizing the highest-quality raw materials and made in small batches to ensure consistency. Each batch is tested prior to packaging and assigned a lot number for tracking as part of our rigorous quality control efforts. Attention to quality raw materials with uniform (consistent) particle size ensures superior results for you.
LiveAquaria Professional Reef Salt is ideal for all marine aquariums, including coral reef, fish-only-with-live-rock, and fish-only systems. 55 pounds net weight.
Parameters
Salinity: 35 ppt (1.026 sg)
Calcium: 400-450 ppm
Magnesium: 1,350-1,450 ppm
Alkalinity: 8.0-9.5dKH
Strontium: 9 ppm
Potassium: 400 ppm

Please Note:
In-home analysis with commercially available test kits may result in deviation due to variables including test kit type, age, brand, and testing technique.
LiveAquaria 205-Gallon Mix Professional Reef Salt
Mixing Directions
Step 1
For best results, use Reverse Osmosis/Deionized (RO/DI) water at a temperature between 70-78°F when preparing LiveAquaria Professional Reef Salt. It is best practice to check RO/DI water quality with a TDS (Total Dissolved Solids) meter. Ideal TDS level should be 0 ppm and no greater than 10 ppm. Use a new, food-safe container dedicated to salt water mixing only.
Step 2
Mix 1/2 cup of LiveAquaria Professional Reef Salt with each U.S. gallon of RO/DI water. Add salt slowly using a mixing pump, powerhead, or airstone, and mix until salt is completely dissolved. Use a properly calibrated refractometer to measure salinity. Adjust salinity as necessary to reach desired range between 28-35 ppt (1.021-1.026 Specific Gravity).
Step 3
Once mixed to a clear solution, add a heater to maintain the water temperature of the prepared saltwater so it matches the water temperature of your aquarium (70-78°F).
Recommended:
Please allow 2-4 hours before using the freshly prepared saltwater to ensure optimum clarity and stabilization of alkalinity and pH levels.
! DO NOT MIX DRY SALT DIRECTLY INTO AQUARIUMS WITH AQUATIC LIFE PRESENT
CAUTION: Keep out of reach of children. Not for human consumption. Generates slight heat when added to water. Do not handle with wet hands. Contact with dry product may cause skin and/or eye irritation. In case of eye contact, flush eyes with cool water and seek immediate medical attention.
STORAGE: Store in a cool, dry place. Keep product tightly sealed.
Customer Testimonials
No testimonials have been submitted for this product.