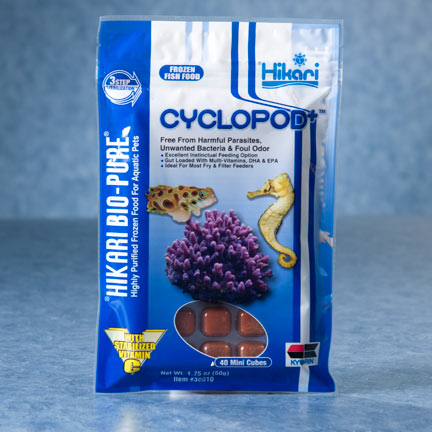 Overview
| | |
| --- | --- |
| * | Easy-to-feed Mini-Cubes allow for exact feeding for nano-reef inhabitants |
| * | Gut-loaded with multivitamins, including Vitamin C, plus Omega-3s DHA and EPA |
| * | Multi-step sterilization process ensures maximum nutrition for aquarium fish |
Hikari Bio-Pure Cyclopod+ provides maximum nutrition for your fish because they are bio-encapsulated with vitamins, minerals and helpful Omega-3 fatty acids. Each ½" square allows you to easily feed inhabitants of your reef aquarium. The extensive multi-step sterilization process used for this frozen food ensures unequalled product quality. Free of harmful parasites, unwanted bacteria, and foul odor, these plankton-ingesting copepods (Oithona similis) are naturally high in phyto plankton and other diatomic food sources and offer an excellent feeding choice for most filter feeders kept in a reef aquarium or to help newborn fish through their early developmental stages. These copepods are gut-loaded with bio-encapsulated multivitamins and Omega-3 fatty acids to offer a dependable nutrient source. Cubes are 1/2" x 1/2".
Feeding Instructions
: Use one cube daily for each 50 gallons of water in your reef aquarium to promote filter feeder growth and extension. Use a pipet to direct feed those corals requiring additional nutrition. For fry, feed an amount they completely consume within 40 seconds up to 10 times per day. Avoid over-feeding as it can cause water quality problems.
Ingredients: Cyclopods (Oithona similis), Water, DHA, EPA, Vitamin E Supplement, L-Asorbyl-2-Polyphosphate (stabilized Vitamin C), Thiamine Mononitrate, Riboflavin, Pyridoxine Hydrochloride, Vitamin B12 Supplement.
Guaranteed Analysis
Crude Protein

5.0% min

Crude Fat

0.5% min

Crude Fiber

0.9% max

Moisture

89.0% max

EPA

500 mg/kg min

DHA

1,000mg/kg min

Phosphorus

0.01% min

Ascorbic Acid

10 mg/kg min

Riboflavin

2 mg/kg min

Vitamin B12

200mcg/kg min
Customer Testimonials
No testimonials have been submitted for this product.