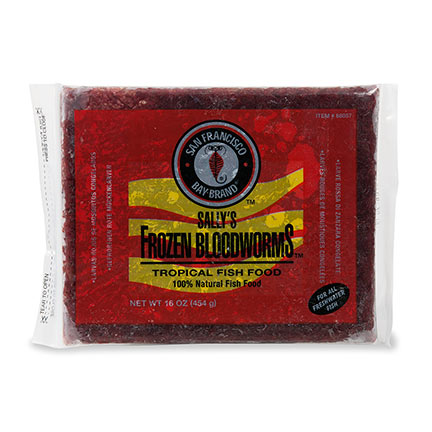 Overview
| | |
| --- | --- |
| * | Flat Packs are convenient to store and break into portions |
| * | Bloodworms frozen fresh to retain natural nutrition for aquarium fish |
| * | Add nutritional variety aquarium omnivores and carnivore love |
San Francisco Bay Brand Bloodworms are popular frozen food fare available in sizes for small or large aquariums, and the convenient flat pack design is ideal for storing and customizable portioning.
San Francisco Bay Brand Frozen Bloodworms offer greater feeding convenience with easy-to-portion flat packs. Bloodworms are collected daily, cleaned thoroughly and frozen to retain their natural shape and nutrition.
San Francisco Bay Brand Frozen Bloodworms are a great frozen food choice for popular tropical aquarium fish including Tetras, Guppies, Mollies, Gouramis, Swordtails, Platies, Barbs, Rainbow Fish, Rasboras, South American Cichlids, Central American Cichlids and more! Bloodworms are also great for aquatic amphibians. Available in 16 oz pack or 32 oz value pack (2-16 oz packs).
Feeding Instructions
Break or cut small portions and thaw in cup, then pour in aquarium. Feed often, but only what can be consumed in three minutes. Remove any uneaten food. Never overfeed. Keep frozen.
Guaranteed Analysis
Crude Protein

3.5% min

Crude Fat

0.3% min

Crude Fiber

0.7% max

Moisture

94.5% max

Ash

0.8% max

Phosphorus

0.1% min
Customer Testimonials
No testimonials have been submitted for this product.