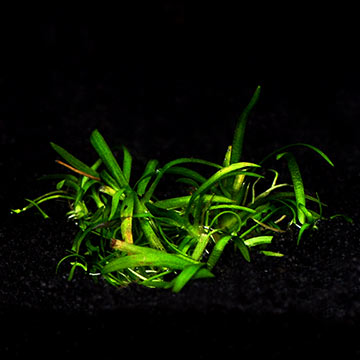 Due to variations within species, your item may not look identical to the image provided.
Overview
Explore your creativity with a clean, modern way to plant your aquarium landscape. We are pleased to introduce Tropica® 1•2•Grow! laboratory-cultivated plants guaranteed to be free from snails, algae, and pesticides.
Tropica 1•2•Grow! streamlines the aquascaping process, delivering high quality plants in convenient cups. Simply rinse the gel growing media off when removing plant from cup, divide and plant accordingly to your aquascape design, and then watch it grow!
Sagittaria subulata also known as Dwarf Sagittaria, Hudson Sagittaria and Ribbon Wapato, is a great aquatic plant for those just beginning to keep live plants in their aquariums. This fast growing plant resembles grass and can grow above the water level. Its unstemmed leaves will grow to form dense clusters. It is an amphibious plant, and will grow either partially or fully submersed.
Tropica 1•2•Grow! laboratory-cultivated plants are ideally suited for planted aquarium hobbyists of all skill levels interested in setting up an exquisite planted aquarium with delicate fish or a lush landscape in miniature showcasing ornamental freshwater shrimp.
Smartly portioned cups beautifully accommodate small and medium sized aquariums. Also great for "touching up" larger established planted aquariums with open areas or invigorating your aquascape with new growth. Dense, compact planting in each cup responds to fertilization and CO2 supplementation resulting in luxurious growth.
Tropica® 1•2•Grow! Sagittaria subulata will do best when provided full spectrum (5000°K-7000°K) lighting of high intensity. Ideal growing conditions with high light conditions, CO2 supplementation, and balanced fertilization will stimulate faster growth. Take advantage of this characteristic and trim Sagittaria subulata accordingly for use as a foreground, mid-ground or background plant in your aquarium landscape design. Plant a large number of stem in a group to achieve a dramatic visual effect.
Approximate Purchase Size: 1" to 3"
Customer Testimonials
No testimonials have been submitted for this product.