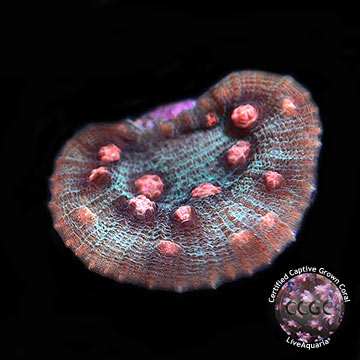 Due to variations within species, your item may not look identical to the image provided.
Overview
The Raspberry Eye Robokaki Coral is a beautiful berry-colored chalice coral sure to make an attractive addition for any reefer - beginner or collector! Propagated here at our LiveAquaria® Coral Farm & Aquatic Life Facility, the Aquacultured Raspberry Eye Robokaki Coral sports a blueish body color with attractive gradients that wonderfully emphasizes it unique growing habit. True to its common name, the growing edge of the Raspberry Eye Robokaki Coral extends upwards and outwards giving it the appearance of a chalice or cup. Bright raspberry-pink corallites accentuate this lovely coral.
The Raspberry Eye Robokaki Coral is easy to care for, requiring moderate aquarium water movement combined with moderate lighting conditions achieved by T-5s, powerful LEDs or the more intense metal halides. It is important to leave space between the Raspberry Eye Robokaki Coral and neighboring corals in mixed reef aquariums as it extends sweeper tentacles night to feed.
The Raspberry Eye Robokaki Coral satisfies the majority of its nutritional requirements by means of photosynthetic, symbiotic zooxanthellae algae hosted within its body. It will benefit from supplemental feedings in the form of brine shrimp or zooplankton. For its continued good health, it requires the addition of calcium, magnesium, strontium, and other trace elements to the water.
The Raspberry Eye Robokaki Coral is mounted on a fired ceramic plug that can be placed easily and securely in or between the rockwork in the reef aquarium.
Approximate Purchase Size: 3/4" to 1-1/4".
Customer Testimonials
No testimonials have been submitted for this product.