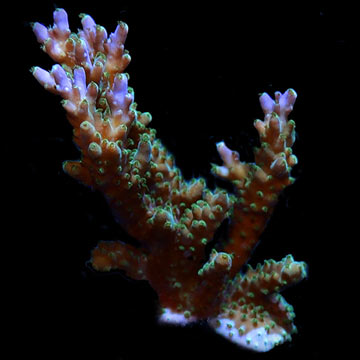 Please Note: Due to variations within species, your item may not look identical to the image provided. Approximate size range may also vary between individual specimen.
Overview
The Aquacultured ORA® Purple Nana Acropora is similar in coloration to A. valida, but has thinner, more delicate branches. It has a dark tan base with bright purple tips and cream colored polyps. ORA originally acquired this morph from the home aquarium of one of its employees, and released it for sale in April of 2003. After selling only 100 pieces, they lost all but one in the 2004 hurricanes that hit ORA. In May 2009, the Aquacultured ORA Acropora nanas were finally back up to full-scale production and ORA was able to put this storied coral back on their list.
They will thrive in a variety of lighting conditions, ranging from power compacts, T-5s, powerful LEDs and up to the more intense metal halides. The ORA aquacultured corals satisfy the majority of their nutritional requirements by means of photosynthetic, symbiotic zooxanthellae algae hosted within its body. Under the right conditions, the growth rate of the Acropora coral is much more rapid than most of the other corals found in an established reef aquarium.
To maximize their growth rate, it is imperative to maintain a high pH, alkalinity and calcium levels, and to keep phosphate and nitrate levels as close to zero as possible. If conditions are ideal, these corals can also be cultured and grown into a new colony from living fragments or broken pieces.
Along with lighting and water quality, Acropora corals prefer strong, intermittent water flow within the aquarium. This is best accomplished with a wavemaker and multiple powerheads. Acropora corals receive a majority of their nutritional requirements from photosynthesis, but will benefit from the addition of zooplankton.
The ORA Aquacultured Purple Nano coral is attached to a plastic plug and can be easily placed in holes or between the rockwork of the reef aquarium.
Approximate Purchase Size: 1" to 2"
Supplies You May Be Interested In
Customer Testimonials
No testimonials have been submitted for this product.