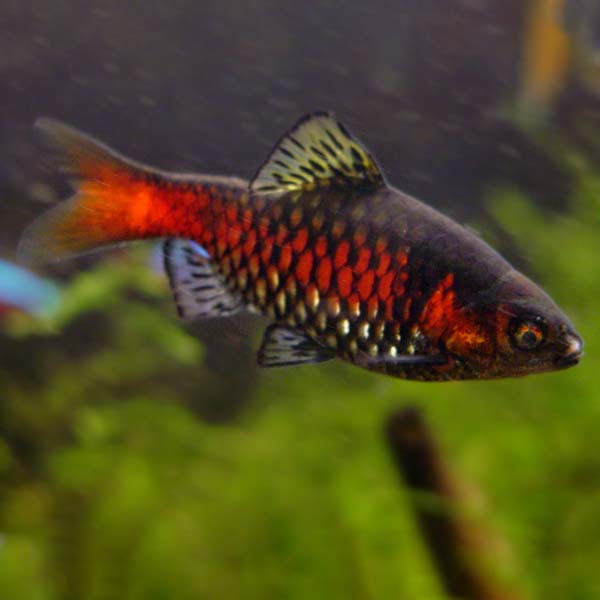 Please Note: Due to variations within species, your item may not look identical to the image provided. Approximate size range may also vary between individual specimen.
Overview
The Odessa Barb is sometimes known as the Scarlet Barb, and the body of the female is silver and pink with a black spot above the pectoral fin. The male is black to silver in coloration and has a beautiful bright red stripe running horizontally from the head to the tail. They are very beautiful and lively fish that prefer to be in schools.
They do prefer a well-planted tank of at least 30 gallons with soft, slightly acidic water. Rocks and driftwood can be added to the aquarium, but leave plenty of space for swimming. The Scarlet Barb is a very active fish that may pester or even nip the fins of larger, slower moving fish.
It is best, when trying to breed the Odessa Barb, to house a number of Barbs in the same aquarium until they pair off. After a pair has developed, the female will lay her eggs and the male will follow behind to fertilize. The fry will be free-swimming after about 5 days. Feed the fry newly hatched brine shrimp until large enough to accept crushed flake food.
The Odessa Barb needs to be fed a variety of foods including vegetables as well as meaty foods. Feed a quality flake food as well as freeze dried, live, and frozen foods such as brine shrimp and bloodworms.
Approximate Purchase Size: 1/2" to 1-1/2"
Supplies You May Be Interested In
Customer Testimonials
Eirik K
Stavanger , TX
I think this is a really beautiful fish. But you should not have smaller males together with larger ones, then they will just be chesed all the time. Try to buy males that are at the same size.