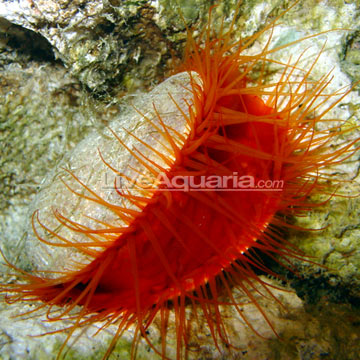 Please Note: Due to variations within species, your item may not look identical to the image provided. Approximate size range may also vary between individual specimen.
Overview
The Red Flame Scallop, also called the Flame Scallop or Red File Shell Clam, has a bright red mantel with red or white tentacles. The shell of the various Flame Scallops is covered with fine bumps, making it feel like a file.
The Red Flame Scallop builds a small nest of small rocks and pieces of coral in which it embeds itself. In an aquarium, this may not offer much protection. When threatened, it may escape by clapping its valves together, propelling it through the water, with assistance from its tentacles. It tolerates all animals that do not try to eat it, and can be kept in groups. It is a filter feeder, and requires floating micro-plankton to be kept alive in the aquarium, and will do best in a mature reef aquarium system. It also needs proper calcium levels and alkalinity. It does not tolerate nitrates or copper-based medications.
The flame scallop is non-photosynthetic and requires supplementation with phytoplankton, and organic foods (Marine Snow or Selcon) provided by using a small pipette/straw to dispense the food upstream of its location. Each Red Flame Scallop needs to be fed individually.
Looking for the best food to feed your Scallops? We recommend AlgaGen Acartia tonsa, AlgaGen Pseudodiaptomus pelagicus, AlgaGen Parvocalanus crassirostris, AlgaGen Tangerine Pod, AlgaGen Moina salina, AlgaGen PhycoPure™ Reef Blend, AlgaGen Decap'd Brine™, and AlgaGen Rotifers.
Approximate Purchase Size: Small: Less than 1"; Medium: 1" to 2"; Large: 2" to 3"
Please note: We guarantee that ALL aquaria species we offer will arrive alive and in good condition. However, because of the increased level of care required for this particular species, it has been designated as "Expert Only." This species is recommended only for the expert aquarist, zoo, or research institution. "Expert Only" aquatic life is exempt from our extended guarantee after their arrival.
Supplies You May Be Interested In
Customer Testimonials
Christian L
Ypsilanti , MI
Very cool and colorful specimen. Acclimatize them for 2 hours. Place them in teh tank where you can see and feed them easily. They like their backs wedged in between rocks. If you don't do it, they will. Do not keep them near the current, because they are happiest when you feed them directly with a liquid plankton product and a pipette. The plankton will just get sucked into the filter. They are cool to watch and add variety.