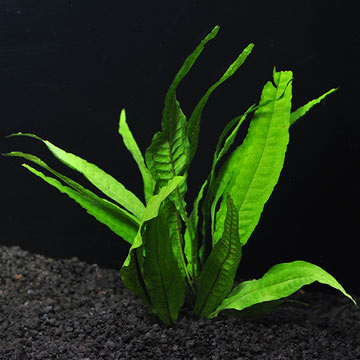 Please Note: Due to variations within species, your item may not look identical to the image provided. Approximate size range may also vary between individual specimen.
Overview
Java Fern is a beautiful addition to the freshwater, planted aquarium. Growing around 8 inches tall, with creeping, green rhizomes, Java Ferns are well suited for not only planted aquariums, but also those that contain cichlids and other large South American fish.
Java Ferns will do well if planted in moderate light as well as in a shaded area. It is amphibious, meaning that it will grow either partially or fully submersed. Provide at least 2 watts per gallon of light supplied by full spectrum (5000-7000K) bulbs.
Java Ferns will thrive in an aquarium with an alkalinity of 3-8 dKH and a pH of 6.0 to 7.5. They will propagate by adventitious plants on leaves & roots, and rhizome division may also be seen. Java Fern looks great planted singly, or in groups if there is enough room in the aquarium.

Approximate Shipping Size: Bare Root. 3" to 5"
Supplies You May Be Interested In
Customer Testimonials
Donna L
Oxford , CT
I've had Java Fern in my tank for years. It's very hardy. Mine has been through extreme temperature and pH changes but still has survived. It grows great on driftwood and will soon cover it. It grows slower on rocks.
Tammy H
Morrison , CO
While most people say that java fern roots must not be submersed in the gravel, mine do beautifully in the gravel with an under-gravel filter. In fact, I have an entire tank full of these beautiful plants after 1 year of purchasing 2 plants. They are one of the few plants that can tolerate our hard water and high pH.
Ryan G
Holland , MI
Strong plant, easy to work with. Arrived clean and free of any undesirables. Started producing adventitious plants within a couple weeks in the tank. I have it planted in the gravel at the bottom of my tank and in a hole in some driftwood at the top of the tank and it does great in both places. It also seems to produce a lot of oxygen bubbles in medium-high light since I started using a CO2 system, maybe it will grow faster as well?
Deanna W
West Lafayette , IN
This isn't very much Java fern, maybe about 3 inches of rhizome and 5 leaves, but what you get is very healthy, large, and robust! No brown edging or dead leaves, and most certainly not just a bundle of wilting leaves being sold as a plant (as you will find at certain large chain pet stores). A very nice start to a Java fern forest!