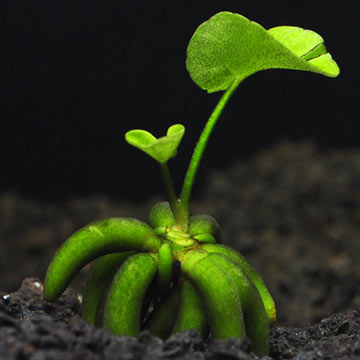 Please Note: Due to variations within species, your item may not look identical to the image provided. Approximate size range may also vary between individual specimen.
Overview
Banana Plant, also known as the Big Floating Heart, is an interesting and unique looking Rosette Plant. It has banana-shaped roots that remain partially unplanted, and store the nutrients for the rest of the plant. The only member of its genus to be used as an aquarium plant because it is the hardiest, and most tolerant of deep water and low light. It is an amphibious plant and will grow either fully, or partially submerged.
The banana-shaped roots of this plant should be planted no more than 1/4 of their length. Plant them by gently pressing them into the substrate. The Banana Plant should be provided with a minimum of 2 watts per gallon of light within the spectrum of 5000 to 7000K. The ideal water conditions for best results are a temperature of 68°-82°F, an alkalinity of 3 - 6 dKH and a pH of 6.0-7.2.
Propagation occurs when adventitious plants are formed and firmly pressed into damp ground or the aquarium substrate. Fully formed leaves may also be pressed into substrate to form new plants. Use Banana Plants as foreground plants and plant them singly for best results and for the most attractive look.
Approximate Shipping Size: Bare Root. 2" to 3"
Supplies You May Be Interested In
Customer Testimonials
Jessica
[City Not Selected] , GA
When I ordered this plant from this site it came looking very healthy. The day after being introduced to its new tank a new leaf opened up. It seems to be a hardy plant and has beautiful leaves. Its unusual root structure is an eye catcher and would be an excellent addition to any tank.
Todd Keller
Clayton , NC
This is definitely a neat addition to my planted tank, and after a week, they are putting out new shoots. They do have a tendancy to float out of the substrate, but once they send out new runners, this problem ends.