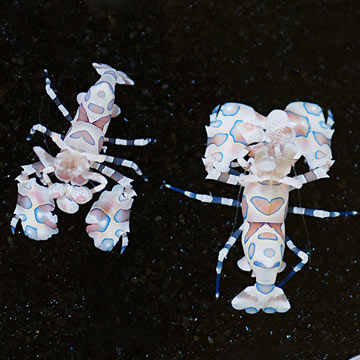 Please Note: Due to variations within species, your item may not look identical to the image provided. Approximate size range may also vary between individual specimen.
Overview
The Harlequin Shrimp was first scientifically described in 1852. The Harlequin Shrimp have a white body with large light blue spots, and the males are slightly smaller than the female. It differs from its close cousin, the Hawaiian
H. picta
which has purple and red spots. It has large claws (chelipeds) which are for show only; it does not use them for hunting.
The Harlequin Shrimp is best kept as mated pairs in an aquarium with moderate light. The Harlequin Shrimp can not tolerate copper or high nitrates, and iodine levels must be correct and maintained to ensure proper molting.
It is very particular about what it will eat, dining only on echinoderms, primarily starfish, and a few urchin species. It will eat starfish (Linckia, Fromia sp.) by starting at the tip of the arm and working its way to the central disc. The starfish may shed the arm, but is often mortally wounded.
As its primary source of food, you will need to supply the Harlequin Shrimp with starfish (Asterias rubens for adults, and Linckia for juveniles). The adults may also eat sea urchins.
Approximate Purchase Size: Small: 1/2" to 3/4"; Medium: 3/4" to 1"; Large: 1' to 1-1/2"
Customer Testimonials
Timothy W
St Louis , MO
This shrimp arrived ready to explore! The Harlequin is a very beautiful shrimp that you can watch for hours in the aquarium. The little guy loves to check things out and seems to be very active in our reef.
Haynes W
Beaufort , SC
These guys are great! Beautiful and graceful. The best part is that they will eat those tiny little starfish that come on live rock. I have such a large colony of those tiny stars that I don't even have to buy food.
Christian L
Ypsilanti , MI
Excellent addition to my 90 gallon tank. I have one pair, and they are not only beautiful but I could watch them for hours. I named them Romeo and Juliet (R&J) because of their beauty, but I should have named them Bonnie and Clyde. They are voracious eaters and killers. It amazes me how they can stalk and kill a starfish several times the size of the both of them.Their behavior is contrived. R&J actually fed a starfish to keep him alive while eating him. Another hunt they tracked down an elusive starfish, dug him out of the sand, lifted him out of a cave, and back to their lair across the tank.
Cole A
Toluca , IL
I ordered a mated pair of these and they run all over the aquarium. and i noticed that they dont just eat starfish. mine actually eat frozen brine shrimp as well. but i still put a cheap starfish in there every once in awhile for them.