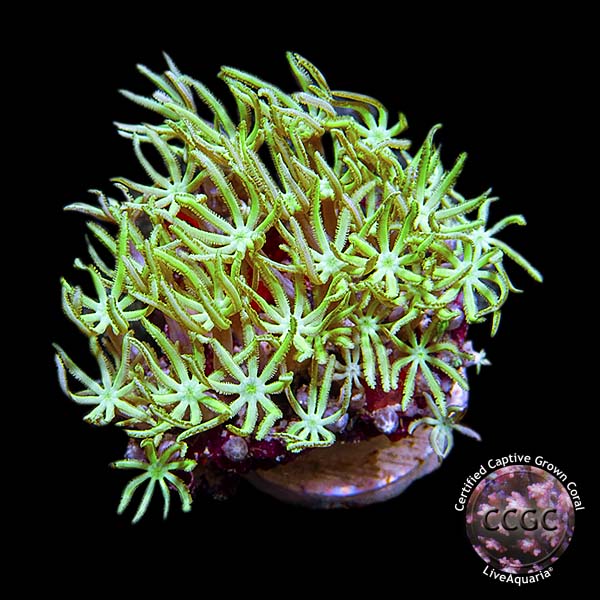 Please Note: Due to variations within species, your item may not look identical to the image provided. Approximate size range may also vary between individual specimen.
Overview
LiveAquaria® is proud to introduce the aquacultured CCGC Pipe Organ Coral. This incredible color variety of Tubipora musica boasts a soothing color scheme and a gorgeous floral appearance sure to inject wonderful visual interest to your reef aquarium landscape.
The Pipe Organ Coral is a soft coral but is often referred to as a hard coral because it produces an external calcareous skeleton that is red in coloration. Common names for the Pipe Organ Coral may include Organ Pipe Coral, Mat Polyp, or Daisy Coral. When its polyps are open, the Pipe Organ Coral is often easily confused with Star Polyp Corals or Clove Polyp Corals because of their similar appearance. However, unlike the aforementioned doppelgangers, the Pipe Organ Coral has a tight "well behaved" growth habit and will not spread aggressively across the rocks and potentially crowd neighboring corals.
The ideal environment for the LiveAquaria® CCGC aquacultured Pipe Organ Coral is an established reef aquarium with coral-friendly fish and invertebrates. The LiveAquaria® CCGC aquacultured Pipe Organ Coral is safe to place near other peaceful corals as it lacks sweeper tentacles that can potentially damage other corals it may come into contact. Provide bright lighting conditions achieved with T-5s, powerful LEDs or the more intense metal halides.
In addition to high lighting conditions and near pristine water quality, the LiveAquaria® CCGC aquacultured Pipe Organ Coral benefits from strong, intermittent water flow within the aquarium. This is best accomplished with a wavemaker and multiple powerheads. However, avoid placement in strong, direct current which could displace or damage the LiveAquaria® CCGC aquacultured Pipe Organ Coral. For continued good health, the LiveAquaria® CCGC aquacultured Pipe Organ Coral requires the addition of calcium, strontium, iodine, magnesium supplements, as well as trace elements.
The photosynthetic symbiotic zooxanthellae algae hosted within the LiveAquaria® CCGC aquacultured Pipe Organ Coral satisfies the majority of its nutritional requirements. However, it will benefit from supplemental feedings in the form of zooplankton, baby brine shrimp, or mysis shrimp fed twice per week.
Approximate Purchase Size: 1/2" to 1"

This LiveAquaria Certified Captive Grown Coral arrives with a Certificate of Authenticity & a 30-Day Arrive Alive, Stay Alive®, Risk-Free Guarantee. Learn more here >
Unlike most clip and ship coral frags, all of our Certified Captive Grown Corals are fully encrusted onto their plugs and are fully adjusted to artificial lighting and synthetic seawater, propagated and grown in our state-of-the-art facility in Rhinelander, Wisconsin.
Supplies You May Be Interested In
Customer Testimonials
No testimonials have been submitted for this product.