Green Bubble Tip Anemone
(Entacmaea quadricolor)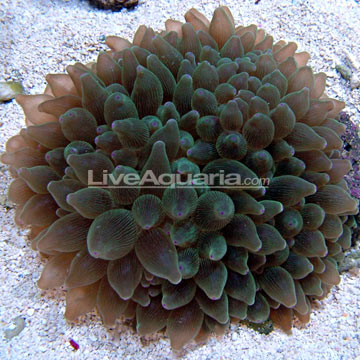 Please Note: Due to variations within species, your item may not look identical to the image provided. Approximate size range may also vary between individual specimen.
Please Note: Due to variations within species, your item may not look identical to the image provided. Approximate size range may also vary between individual specimen.

Green Bubble Tip Anemone
(Entacmaea quadricolor)
Additional locales and sizes may be available!
Additional locales and sizes may be available!
Email me when available
Overview
The Bubble Tip Anemone is one of the most beautiful ornamental anemones for the home reef. When housed beneath intense aquarium lighting, Entacmaea quadricolor develops a unique bulb tip at the end of its tentacles. When hungry, this member of the Actiniidae family will stretch its sweeper tentacles to grab food from the water column. After feeding, the tentacles then shorten again and take on their bulbous appearance.
Though often referred to as the Four-Colored Anemone, coloration can vary greatly from one individual to the next. Red variations may be referred to as Rose Anemones. Generally, Bubble Tip Anemones from Fiji and Tonga are shaded in soft browns, tans, or maroon, though an occasional green specimen is found. By contrast, the Bulb Anemones from Sri Lanka are typically green in color with a deep maroon base.
The Bubble Tip Anemone is found in oceans around the world. The Bulb Anemone attaches its pedal disc deep within dead coral amongst rubble or on solid, living reefs. In the home aquarium, the Bubble Tip Anemone requires similar habitat and positioned amongst deeply creviced live rock or branchy corals placed in sandy substrate. Most Bulb Anemones prefer to find their own place to settle and may move about your aquarium until a suitable location is found.
For best care, the Bubble Tip Anemone requires strong lighting in aquariums of at least 30 gallons. Under ideal conditions, it can grow up to 1-ft in diameter. However, most typically remain compact in size when kept under bright lighting. If the lighting is insufficient, the Bubble Tip Anemone will expand its body to make the most of the available light. It should be kept with a Clownfish for best care. At times, the tentacles of the Bubble Tip Anemone may appear stringy; this may be due to insufficient light or the need for food. Its diet should include chopped fish, shrimp, or worms if a clownfish is not present.
Handle this invertebrate, and all Anemones, with care. The Bubble Tip Anemone can sting other anemones and corals that infringe on its territory.
Approximate Purchase Size: Small: 1-1/2" to 3", Medium: 3" to 4"; Large: 4" to 6"
Supplies You May Be Interested In
Customer Testimonials
Manuel B
Manhasset , NY
The Bulb Anemone I purchased from Live Aquaria is beautiful and very healthy. I orderd a small and was surprised to see how big it was when it arrived. I couldn't be happier with my purchase!
Brian P
Sterling Heights , MI
I have been in the fish business for 10 years now and never have I seen such an exquisite and colorful bulb anemone in my life. I trust in LiveAquaria to send only the healthiest and most beautiful aquaria to my door.
Eric S
Winterville , NC
I ordered the anemone from Singapore. It is very healthy and a beautiful green. Once acclimated and placed in the aquarium he opened up and moved around the aquarium till he found a nice spot to set up home. I am very pleased with this beautiful anemone.
Brad C
Lowell , MA
I bought a Bulb Anemone from LiveAquaria.com and it is a very healthy specimen. It's very easy to care for. The best anemone for a saltwater tank.
Laurie B
Madison Heights , VA
I am in the process of building a 90-gallon reef aquarium. The corals I have received over the last two weeks have been exceptional. I received a Bulb Anemone today, and under my metal halide and VHO actinic the fluorescent green color is exquisite. The anemone has attached itself to a rock and I am anxiously awaiting my Maroon Clownfish to find it. You really do have the best quality aquaria I have come across.
Thomas S
Rockland , MA
Everything I have ordered from LiveAquaria.com so far has been top notch. I had requested green Bulb Anemone or something other than tan. I received a beautiful baby blue fluorescent Bulb Anemone and it was doing great until my Filefish apple cored it!
Amber H
Exeter , RI
Being my first anemone, this is a very easy invert to take care of. Even in my small tank, it found a nice place to hide. It is a beautiful color and very hardy and healthy.
Daniel R
Bronx , NY
I bought the bulb anemone and it is beautiful. I don't know why but I still like it that my I bought only one anemone and a few weeks later it split into two anemones. I'm still searching to see if it is because of stress or if it is a case of breeding.
Levi S
Laurel , MT
this anemone arrived in fantastic condition! the coloring is beautiful and live aquarias shipping and customer service are second to none.
Knick T
Thibadaux , LA
I ordered my Bulb Anemone and at first I was worried it may not survive. The next day it had opened up and I was amazed at the size and color of the medium bright green Bulb Anemone that now lives in my fish tank.
Paul Davies
Stowe , VT
The small bulb anemone I received from LiveAquaria was great. Really healthy, and as described on their web site. I would caution though, if you are considering buying a small anemone, be prepared for what you are getting. I have a 90 gallon tank. After doing some reading about BTA's and the best places for them, I put mine in my tank. It stayed where I put it for about a week, and I thought all would be well. However, my tomato clown found it and started taking an interest, which seemed to scare it off, as the next morning, it was nowhere to be found. This is the problem with small anemones. They can disappear on you, and unless you're prepared to pull the rock work apart to go looking for them, they run the risk of not getting enough light, and not feeding. Being so small, they can become unhealthy fast. I found mine hiding at the back of the tank at the bottom of a rock. As I did not want to run the risk of damaging the anemone, I turned the rock around so at least I could get to it to feed it. The next day it had disappeared again. When I next found it, it had started to look sickly. The color was lighter, and it looked smaller. So I decided I needed to put it into a quarantine tank and give it some TLC. It never recovered. My water parameters are fine, I have another larger BTA (about 5"), and that is thriving, and is hosted by my tomato clown. I got this one from a local fish store after my initial purchase from LiveAquaria. I would recommend, if buying a small anemone, that you prepare to put it in a smaller quarantine tank to grow before placing it in your main DT. If a 5" anemone goes wandering, you will easily find it. One that is 1" can hide anywhere. This is more a reflection on my inexperience with anemones than on LiveAquaria. As I said at the beginning, the specimen I received was great. I hope my learning experience helps you to not repeat my mistake.
Tim B
Silver City , NM
I ordered skeptical at first but with no store where I live selling salt water animals I had no choice. I was very pleased to say the least. My anemone came super healthy and is very happy in my tank. I will definitely order from liveaquaria again all animals were in amazing condition.
William Pantos
Victoria , TX
Bright Green. It has not started moving around to find it's spot yet but looks better than the photo.
Todd V
Hillsboro , OR
Before you introduce an anemone to your tank, make sure you cover your powerheads as they will roam everywhere until they find a spot they like. Great addition to your tank (especially if you have clownfish), but not a good choice for a heavy stocked reef tank.
Elizabeth S
Mobile , AL
I ordered a bulb anemone along with other inverts. After acclimating, I gently placed him near the spot I chose for him ? and within 10 minutes he was attached to the live rock and starting to open! I could not be more pleased! Thanks so much Live Aquria!