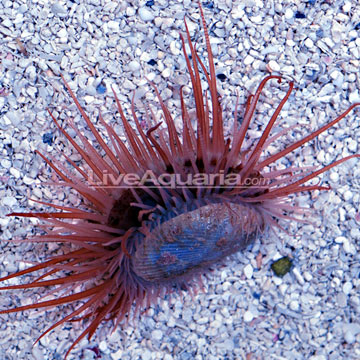 Due to variations within species, your item may not look identical to the image provided.
Overview
The Flying Scallop has red tentacles and a smoother shell than Caribbean members of its genus, and its tentacles are more sticky. While it usually remains in one place (sessile), it has the ability to jet water out of the back of its hinge, propelling it forward in the direction of its opening.
It is usually found embedded among reef rubble, in a small nest that it has made of rock. It tolerates all animals that do not try to eat it, and can be kept in groups. It requires floating micro-plankton to be kept alive in the home aquarium and will do best in a mature reef aquarium system. Nitrates must be kept low, and it will not tolerate any copper-based medications.
It requires supplementation with phytoplankton, and organic foods (Marine Snow or Selcon) provided by using a small pipette/straw to dispense the food upstream of its location (each Flying Scallop needs to be fed individually). In addition, it can be supplemented with brine shrimp.
Approximate Purchase Size: 3/4" to 1-1/2"
Supplies You May Be Interested In
Customer Testimonials
No testimonials have been submitted for this product.