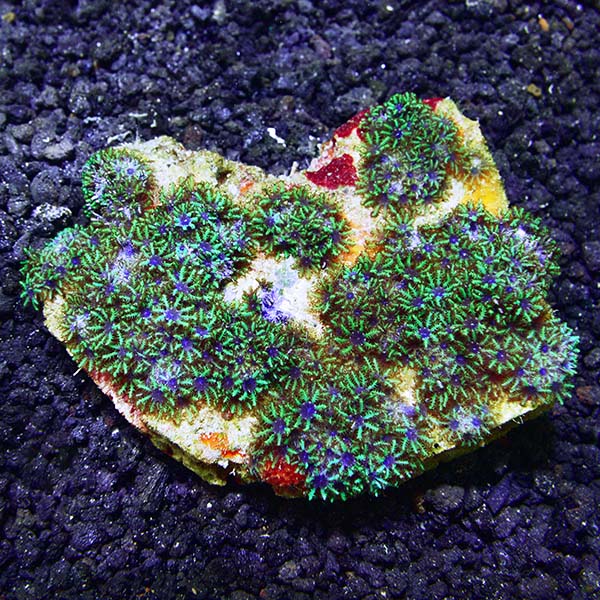 Please Note: Due to variations within species, your item may not look identical to the image provided. Approximate size range may also vary between individual specimen.
Overview
The Blue Sympodium Polyp is the soft coral sensation that has generated recent buzz among reef hobbyists. This newcomer to the reef aquarium hobby has made sporadic appearances in relative anonymity. However, the striking beauty of the Blue Sympodium Polyp makes it difficult for it to go unnoticed. This encrusting soft coral boasts magnificent coloration enhanced by its compact colonial growth habit. Each polyp sports a rich blue center complemented by lovely jade-colored pinnules. The resulting effect is an exquisite "floral arrangement" sure to be the source of envy among coral connoisseurs.
The Blue Sympodium Polyp shares an uncanny resemblance to Xenia Corals. They are both colonial animals with multiple individual polyps attached to a solid piece of substrate. They both form stalks as they grow and reproduce. However, the Blue Sympodium Polyp does not display pumping or pulsing behavior. Though the Blue Sympodium Polyp tends to be slower growing, be sure to provide adequate space to accommodate growth. The peaceful and undemanding Blue Sympodium Polyp accommodates a range of lighting and water movement conditions.
The Blue Sympodium Polyp contains the symbiotic algae zooxanthellae from which it receives the majority of their nutritional requirements. Additional weekly feedings of micro-plankton or foods designed for filter feeding invertebrates is recommended. For continued good health, the Blue Sympodium Polyp will require the addition of iodine and other trace elements to the water.
Approximate Purchase Size: Small: 1-1/2" to 2-1/4" ; Medium: 2" to 4-1/4"
Supplies You May Be Interested In
Customer Testimonials
Eron S
Brookfield , WI
Very cool blue and green colors!Some are brown though, maybe they just need more time. Took about two days for half to open up including time to photo-acclimate. Highly recommend to get
Biran
AZ
The pic looks a little more full than the one I got. The colors are very accurate. My specimen arrived very healthy. Several of the colonies opened up within 6 hours of acclimating.
David S
Richmond , VA
The blue isn't nearly as pronounced as the photo indicates, but this is a really cool piece nonetheless. These appear to be made up of several small colonies rather than the more typical carpet format of, say, a GSP. My piece had a fantastic amount of coraline algae and just had overall excellent character. The only drawback is that mine was grown on a large ceramic disc, not a natural rock. It's not easy to find a 3-4" flat space to place a flat disc in a reef setting -- and nearly impossible to find a place that looks remotely natural. I should have taken this into account when opting for the maricultured version. Perhaps the regular version does not come on those horrible ceramic pieces. It's worth asking before buying. Overall, I would recommend this piece as long as you've already thought about where you're going to mount it.