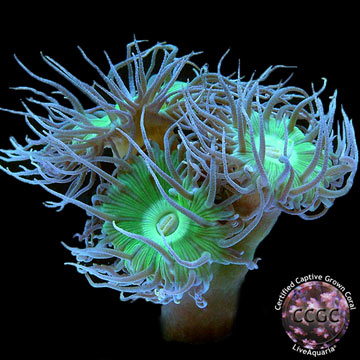 Please Note: Due to variations within species, your item may not look identical to the image provided. Approximate size range may also vary between individual specimen.
Overview
Previously uncommon to the United States, this beautiful coral specimen is now captive-grown in our Coral Farm & Aquatic Life Facility. Colonies form via long, tubular corallites with stunning neon green oral discs. Boasts vibrant purple tentacles that retract when disturbed, but otherwise remain extended day and night. The brood stock for these frags were acquired from a few of the first imports of Australian corals shipped to the United Sates.
Native to the deeper waters of Western and Northern Australia and the South China Sea, this coral prefers to attach to solid objects in soft, sandy areas. Here, they readily propagate and often form a continuous mat of tentacles that conceal the overall shape of the underlying colony. In the home aquarium, place in low current areas with low to moderate light.
This coral is peaceful and does well with other non-aggressive corals and invertebrates, provided it has ample room to grow. Though they feed through photosynthesis via the symbiotic algae zooxanthellae that thrive on the colony, this coral also benefits from regular target feedings of meaty marine foods such as enriched mysis and brine shrimp.
It also benefits from the addition of calcium, strontium, and other trace elements to the water column.
Approximate purchase size: 1" to 1-1/2"

This LiveAquaria Certified Captive Grown Coral arrives with a Certificate of Authenticity & a 30-Day Arrive Alive, Stay Alive®, Risk-Free Guarantee. Learn more here >
Unlike most clip and ship coral frags, all of our Certified Captive Grown Corals are fully encrusted onto their plugs and are fully adjusted to artificial lighting and synthetic seawater, propagated and grown in our state-of-the-art facility in Rhinelander, Wisconsin.
Supplies You May Be Interested In
Customer Testimonials
Shawn G
Baltimore , MD
Simply amazing! I've only been working with my reef aquarium for six months so I wanted something easy to start with. I bought a single head, and in one month I have four new heads budding from the original. Easy to care for and as fun to feed as my fish. Truly a must have.
Ian G
Belmont , CA
This particular strain has really nice neon green centers that shine under strong actinic lights. Nice long polyps that make the small colony look like a nice bush.
David B
Newport Coast , CA
These guys are great they look cool glow in acnitic light and are easy to care for
Bruce S
Pittsfield , NH
This is a awsome coral. I have had it for less then a month and it is already growing a forth head. The coloration is amazing.