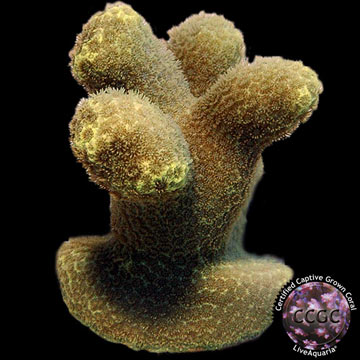 Due to variations within species, your item may not look identical to the image provided.
Overview
The Canary Porites Coral has bright yellow branches that add a uniqueness not many corals have to offer. The parent colony of these coral frags was collected in Fiji at a depth of about 15-20 feet and then quarantined and given a health inspection before being propagated.
The Porites Coral can live in a variety of lighting conditions, ranging from power compacts, VHO, T-5's up to the more intense metal halides. Alter their position in the aquarium depending on the lighting. In an aquarium lit by metal halides, Porites Corals should be kept in a mid to low position; under other lighting they should be kept in a mid to high position. To bring out the most intense coloration of this coral, we recommend metal halide lighting. For continued good health, they will require the addition of a two part calcium and buffer supplement in order to maintain a calcium level of 400-450 ppm and dKH of 8-12. It will benefit from the addition of zooplankton.
LiveAquaria® Aquacultured Coral frags are mounted to a fired ceramic plug that can be affixed to live rock anywhere in the aquarium with gel super glue or epoxy.
Approximate Purchase Size: 1" - 2"

This LiveAquaria Certified Captive Grown Coral arrives with a Certificate of Authenticity & a 30-Day Arrive Alive, Stay Alive®, Risk-Free Guarantee. Learn more here >
Unlike most clip and ship coral frags, all of our Certified Captive Grown Corals are fully encrusted onto their plugs and are fully adjusted to artificial lighting and synthetic seawater, propagated and grown in our state-of-the-art facility in Rhinelander, Wisconsin.
Supplies You May Be Interested In
Customer Testimonials
Phil F
Columbus , OH
I received this product in the Beginner SPS Frag Pack and am thrilled with the size and health of the specimen. Within two days of being placed in my new reef tank, it was is full "bloom" and looks amazing!