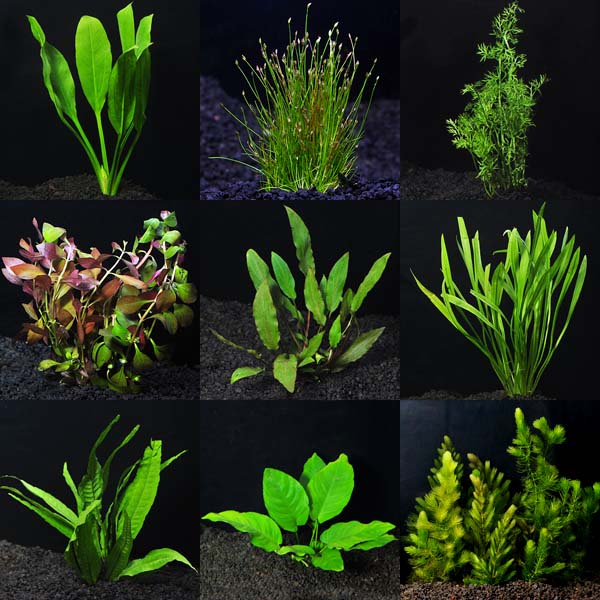 Please Note: Due to variations within species, your item may not look identical to the image provided. Approximate size range may also vary between individual specimen.
Overview
The
Deluxe Plant Pack
comes with the following plants: Micro Sword or Dwarf Hairgrass, Anubias Nana or Anubias Barteri Round Leaf, ChainSword - Narrow Leaf, Java Fern, Red Cryptocoryne or Green Cryptocoryne, Water Sprite, Ludwigia - Broad, Hornwort, Cabomba, and Amazon Sword Plant.
The species contained in the Deluxe Aquarium Plant Pack require a moderate level of lighting. Offer 10 to 12 hours of light per day of 3 to 5 watts per gallon using standard florescent, or 2 to 4 watts per gallon using Power Compact, VHO or T-5 Fluorescents with a spectrum of 5,000 to 7,000 degrees Kelvin.
Provide this Plant Pack with a few inches of iron rich substrate that contains a moderate grain size. Substrates such as Flourite, EcoComplete or Flora Base work well for planted aquariums and typically do not require supplemental gravel fertilizers. Regular additions of iron and nitrogen in a liquid form will also aid in the plant's long-term growth and coloration.
To plant the Deluxe Plant Pack, simply follow the acclimation and planting guide and keep in mind the size of the plant at maturity when choosing a location in the aquarium for the individual species. Be sure to properly trim the roots of the new arrivals, and carefully remove any pots and packing materials before planting.
Simply choose the pack below that matches your aquarium for a beautiful and easy to care for aquatic landscape.
Package Contents
Quantity of species
per aquarium size
(gallon)
30
55
75
100
Micro Sword or
Dwarf Hairgrass

1

2

3

3

Water Sprite

1

2

2

3

Anubias Nana or
Anubias Barteri
Round Leaf

1

2

2

3

Ludwigia - Broad

1

2

3

4

ChainSword
- Narrow Leaf

1

1

2

3

Hornwort

2

3

4

5

Java Fern
or
Spiralis
1

2
2

4
3

6
4

8
Cabomba

2

3

4

5

Red or Green
Cryptocoryne

1

2

3

3

Amazon Sword

1

2

2

3
Supplies You May Be Interested In
Customer Testimonials
Dixwell B
Griffin , GA
This deluxe pack arrived well-packed and have had them for a month. They are growing so fast I've had to trim them back.
Jennifer H
Charlotte , NC
Plants arrived well packaged and in excellent condition. Great variety of healthy specimens.
John K
Chicago , IL
This is a great pack stop reading and buy it now.. However, if you kept reading the plants are all perfect and healthy. They give you so many plants!!! I even got some i didnt order!! Great choice and would recommend to anyone!!!!
Steven C
Euless , TX
It arrived a day early and all plants were well packaged and very healthy. Awesome!