Pond Styles Overview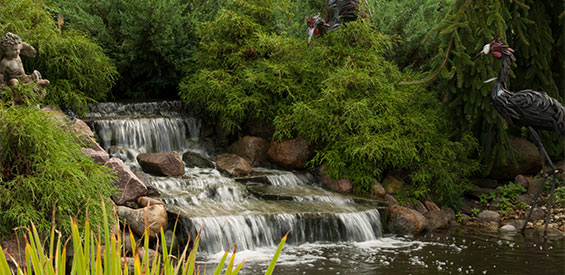 Is your backyard looking a little dry? When it comes to landscaping, more and more homeowners are incorporating ponds into their design. But, if you think water features are reserved for those with expansive acreage and big budgets, think again. No matter how small or big your plans, there's a pond style for every space.
A dramatic water element can be as subtle as an ornamental water fountain, or a waterfall that curtains over a retaining wall and disappears into a shallow pool below. If you have the room for a larger feature, consider planning a wetland water garden or even designing a spectacular koi pond with formal touches.
Here are a few ideas to get you started: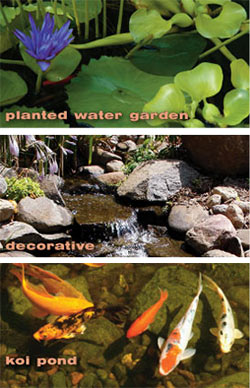 DECORATIVE WATER FEATURES
make the sight and sound of water the focal point in your yard. From freestanding container fountains to a disappearing waterfall that's landscaped into your makeover plans, decorative water features are ideal where you need to add drama in a small space. They're also the easiest to maintain! For more specific ideas, see the Pond Construction and Enhancement section in our Article Library.
PLANTED WATER GARDENS
transform stark urban spaces into beautiful flowering sanctuaries, or return green suburban lawns to lush, wildlife havens. Careful plant selection, good filtration, and regular testing will be the big three factors to consider for planted water garden success. Ideal for those who love to garden and watch their efforts grow, though not reserved for green-thumb experts.
KOI PONDS
come in many shapes and styles, but all put the health of their inhabitants first. That means plenty of water volume, biological filtration, proper nutrition, and seasonal considerations. But, for all the attention you give them, koi reward their owners with playful personalities and a graceful beauty that's legendary. Consider a structured, formal pond like a traditional zen pond or create an informal pond inspired by nature with a winding canal for koi to travel.
In addition to boosting the resale value of your property, designating a portion of your yard as a water feature means more time outdoors enjoying where you live. The sound of a fountain or tumbling waterfall softens any stressful day. And, the time spent tending your new aquatic garden will reward you for years to come!