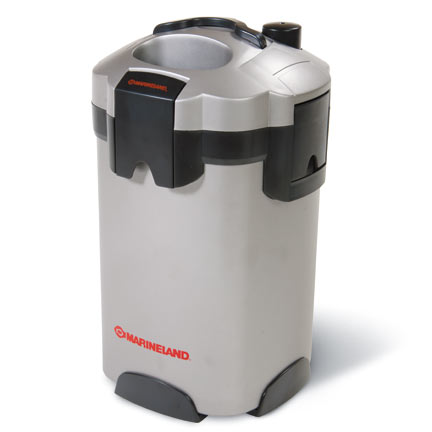 Overview
| | |
| --- | --- |
| * | Easy-to-use, high-performance, 3-stage aquarium canister filter |
| * | Included media captures more particulates for crystal clear water |
| * | "No bypass" water flow means efficient aquarium filtration |
High-performance, no bypass design means superior aquarium canister filtration. Efficient, multistage filters force water through the Stack n' Flo filter media trays to provide exceptional mechanical, chemical, and biological filtration. The result is crystal clear aquarium water and a healthy aquatic environment. Sleek, contemporary filter boasts convenient maintenance features including valve block for quick release, quick prime button, and tote handle. Media included for immediate startup. For fresh or saltwater aquariums.
Includes: Polishing filter-floss pad, filter foam, carbon filter bag, bio-filter balls, inlet/outlet assembly, 5/8" ID tubing (7/8" ID for C-530), and ceramic bio-filter rings.
Model

Aquarium
Size
(up to)

Dimensions

Media
Baskets

Max
gph

Filter
Foam

Carbon
Bags

C-530

150 gallons

18.25" x 13.5"
x 21.5" h

4

530

4

4
Key Features:
Quick Release Valve Block - Immediately shuts down water flow and separates from motor housing for quick, spill-free filter maintenance.
Quick Prime Button - Quickly fills canister housing with water for self-priming system startup. Fast, no mess, and no manual siphoning.
Easy access Stack n' Flo Filter Trays - Individual flow-through media layers provide a large area for total mechanical, chemical, and biological filtration.
Filtration Media - Marineland C-Series Canister Filters come with all the media necessary to get started.
Additional filter media and impellers sold separately.
Quick Setup Guide
STEP 1
Parts Check: Check to see all parts are included.
STEP 2
Case Prep:
Unlock and remove Motor Head. Release Locking Buckles. Release Lift Buckles and pull up.
Unwrap all media and rinse thoroughly.
Place media in appropriate Filter Trays. Load Flow Dish, media-filled Filter Trays, and then the Securing Plate. IMPORTANT: Arrow on handle should align with arrow on filter case.
Replace Motor Head. Close Locking Buckles. Secure Lift Buckles. NOTE: Align Intake Nozzle and Connector Pipe.
Attach Valve Block to Motor Head. Turn Motor Head Key clockwise. Press Motor Head Key down and Close Key Cover.
STEP 3
Placement:
Place canister filter under aquarium, in an accessible location. Top of canister filter must be below aquarium water level.
Make sure the distance from bottom of filter and top of aquarium fall within the following ranges:

C-160: 20-60 inches
C-220: 24-60 inches
C-360: 32-60 inches
C-530: 32-80 inches

NOTE: Do not plug in yet.
STEP 4
Intake/Outlet Assembly:
Attach Strainer and Suction Cups to Intake Tube. Moisten Suction Cups and press Intake Tube in to position on inside wall of aquarium.
Attach Elbow, Diffuser, and Suction Cup to Outlet Tube. Moisten Suction Cup and press Outlet Tube into position on outside wall of aquarium.
STEP 5
Connection:
Attach Vinyl Tubing ends to Valve Hose Barbs. Tighten Hose Nuts.
Extend hoses to highest barbs on Intake and Outlet Tubes. Allow for 2 inches of slack. Cut Hoses to fit. Attach Hoses to Intake and Outlet Tubes. Models C-160, C-220 &C-360 only: Place Snapper Clamps around hose and tubes at fittings. Tighten Snapper Clamps. Models C-530: Tighten Locking Screws on Intake and Outlet Tubes.
STEP 6
Start Up
Plug in Filter.
Press Quick Prime Button two times to start the flow of water to the aquarium.
Note: If water flow through Diffuser is not satisfactory, unplug Filter and check hose connection for obstructions or kinking.
Note: A slight rattling noise is normal ONLY during startup. If noise persists, shut off filter and check for dirt or debris that may be at the bottom of canister.
For Optimum Performance
Clean Filter Media regularly. Rinse with water from aquarium, NOT tap water.
Replace Filter Foam every 9 months.
Clean Impeller Assembly Cover and Impeller monthly. Rinse thoroughly under warm tap water.
Replace Filter Floss Pad and Carbon Filter Bags every month.
Customer Testimonials
No testimonials have been submitted for this product.