LiveAquaria® CCGC Aquacultured Red Sea Pom Pom Xenia Coral
(Xenia sp.)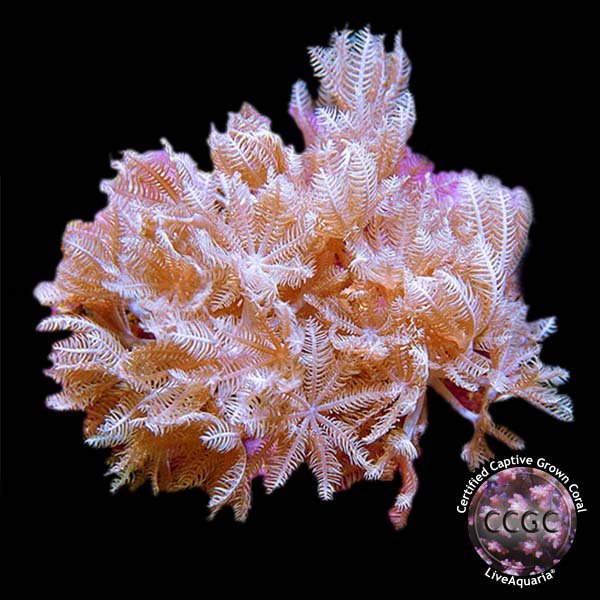 Please Note: Due to variations within species, your item may not look identical to the image provided. Approximate size range may also vary between individual specimen.
Please Note: Due to variations within species, your item may not look identical to the image provided. Approximate size range may also vary between individual specimen.
Overview
The Pumping Xenia Coral, are also known as Pulse Coral, or Waving Hand Corals. They are colonial animals with multiple individual polyps attached to a piece of solid substrate. They form stalks as they grow, and to reproduce. The eight-tentacled polyps can pump, or pulse, and many scientists believe the pumping action of the polyps slowly opening and closing is designed to dispose of gasses and waste. However, it is still unknown why these coral do pulse, and there are many water, lighting and nutrient factors involved. It is not necessarily a sign of ill health if they do cease to pulse. The parent colony of these coral frags was acquired from one of the aquariums in our company and then quarantined and given a health inspection before being propagated.
Aquacultured Xenia are hardier than wild-caught species and tend to reproduce quickly. Therefore, provide adequate space between them and sessile animals, especially other types of soft corals. They require a low to moderate light level combined with a medium to strong water movement within the aquarium. For continued good health, they will require the addition of iodine and other trace elements to the water.
They contain the symbiotic algae zooxanthellae from which they receive the majority of their nutritional requirements. Additional weekly feedings of micro-plankton or foods designed for filter feeding invertebrates are also needed.
These polyps are attached to a square aragonite plug and can be easily placed in holes or between the rockwork of the reef aquarium.
Approximate Purchase Size: 1" to 2"

This LiveAquaria Certified Captive Grown Coral arrives with a Certificate of Authenticity & a 30-Day Arrive Alive, Stay Alive®, Risk-Free Guarantee. Learn more here >
Unlike most clip and ship coral frags, all of our Certified Captive Grown Corals are fully encrusted onto their plugs and are fully adjusted to artificial lighting and synthetic seawater, propagated and grown in our state-of-the-art facility in Rhinelander, Wisconsin.
Supplies You May Be Interested In
Customer Testimonials
Ed R
Maricopa , AZ
This has got to be one of the most interesting corals available to saltwater enthusiasts. It's swaying motion and pulsing tops add a lot of movement to your reef, also this is a very hardy coral and easy for the beginner to grow. I highly recommend xenias!
Kevin W
Floyds Knowbs , IN
This is my favorite coral I have ever bought. I sell fragments of it to my local pet store.
Mary H
Acampo , CA
I received this coral yesterday. It is now open and pulsating It is a wonderful addition to my 12 gal nano-reef. I was very impressed with the packing. Thank-you Drs.
Sandro S
Claremont , NH
Came alive and healthy unlike reef 2 go that company ship 3 out 3 things I order very badly and never got my money back for my xenia gave up trying.But with live aquaria they ship stuff very well only thing is that this xenia I got never pulses I hope it does one day because that's the reason I got it.
Candy V
Montreal , WI
This coral is gorgeous, easy to grow, and spreads pretty rapidly. In 6 months the small plug I acquired has grown to cover about 2 square feet of space under metal halides and high flow with daily feedings. It does not seem inclined to overgrow other corals. The constant pulsing is hypnotic to watch. It has grown about 2 inches in height in my aquarium and resembles a bed of beautiful wild flowers.
Heidi Merriman
Strongsville , OH
Received this coral 2wks ago, packaged very well. I was a little disappointed in the size, thinking it might be bigger; however; after 2wks in my tank I swear it has doubled in size. Very pretty - just sways in the water. I am hoping it continues to grow at this rate. As it gets bigger, it will be a beautiful backdrop for the fish in my tank