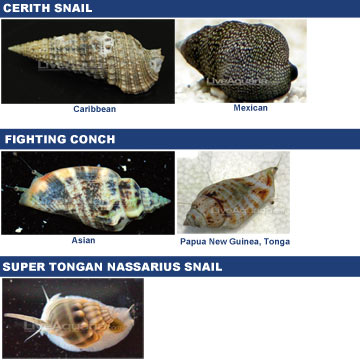 Due to variations within species, your item may not look identical to the image provided.
Overview
The Detritus Attack Packs are designed to establish a natural means of controlling the amount of decaying matter that is present in marine aquariums. The number of cleaners in each package is based on our years of experience and will provide enough cleaning power for the size aquarium you are working on.
Standard Detritus Attack Pack is a formidable offense that will keep a sand bed sifted in their continuous search for detritus to eat. Each pack is recruited by tank size and includes an adequately stocked army of Cerith Snails, Super Tongan Nassarius Snails or Nassarius Snails, and Fighting Conches.
Package Contents
Quantity of species per
aquarium size (gallons)

30

55

75

100

125

Cerith Snails

10

18

25

30

40

Super Tongan Nassarius Snails
or
Nassarius Snails
6

9
12

17
15

22
20

30
25

36
Fighting Conches

1

2

3

4

5
Customer Testimonials
Jean DeSandre
Conyers , GA
I added this Attack Pack after I added the Algae Reef Pack. They are intesting to watch and they complement the Algae Attack Pack's work. My tank looks sparkling clean.