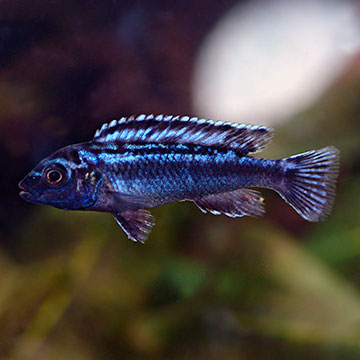 Please Note: Due to variations within species, your item may not look identical to the image provided. Approximate size range may also vary between individual specimen.
Overview
The Maingano Cichlid,
Melanochromis cyaneorhabdos
, comes from the shallow waters of Lake Malawi, Africa. These fish are a dark blue coloration with lighter blue horizonal stripes. The females will have lighter color bellies and shorter pelvic fins.
A large aquarium with plenty of caves and hiding places is ideal for these fish. An aragonite-based substrate is recommended in order to maintain the necessary high pH and alkalinity.
For best results in spawning, the males should be kept with at least three females. The female will spawn on a flat rock, and will take the unfertilized eggs into her mouth and will follow closely behind the male until he releases the sperm to fertilize the eggs. The female will then incubate the eggs for approximately three weeks before releasing the fry. The fry can then be fed newly hatched brine shrimp, daphnia, or crushed flake food.
The Maingano Cichlid needs to be fed vegetable rich foods in the form of flake food, dried seaweed and algae.
Approximate purchase size: Medium: 2 to 3" ; Large 3" to 4"
Supplies You May Be Interested In
Customer Testimonials
Adam B
Clemson , SC
Fair warning, this is by far the most aggressive species of cichlid in my tank. He's not just territorial, he roams the whole tank harassing the other species and nipping their fins, especially any smaller ones that are blue in color. Probably it is best if you get smaller of these and larger of other cichlids, though this one will take on larger fish too.