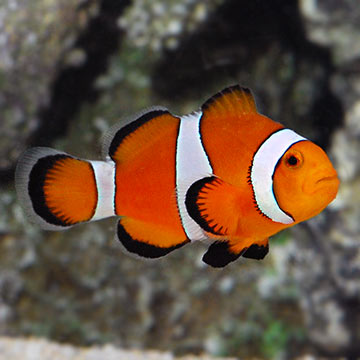 Please Note: Due to variations within species, your item may not look identical to the image provided. Approximate size range may also vary between individual specimen.
Overview
The Ocellaris Clownfish may be one of the aquarium industry's most popular marine fish. Its beautiful orange body dressed with white bands outlined in black instantly distinguishes the Ocellaris Clownfish. This member of the Pomacentridae family is an excellent addition to almost any saltwater aquarium system. What makes this specific variety even more appealing to aquarists is the fact that each Ocellaris Clownfish is captive-bred to help protect the fragile reef environments of the world.
The Captive-Bred Ocellaris Clownfish has other unique advantages over wild-harvested species. For one, the Captive-Bred Ocellaris Clownfish is very hardy and more accustomed to conditions found in home aquariums. Therefore, it makes a great choice for novices and seasoned aquarists alike. The Captive-Bred Ocellaris Clownfish can also be kept with a variety of other captive-bred clownfish, if introduced into the aquarium at the same time.
The Captive-Bred Ocellaris Clownfish is also easy to breed in the home aquarium. The females will be the largest of the pair and the two fish will usually stay close to each other in the aquarium. The Captive-Bred Ocellaris Clownfish is an egg layer and will deposit the eggs on a flat surface and defend the eggs from other tankmates. The eggs will normally hatch in 6-11 days depending on the water temperature. The fry must be reared in a separate aquarium on a diet of rotifers followed by baby brine shrimp.
The Captive-Bred Ocellaris Clownfish is also known as the False Percula Clownfish, False Clown Anemonefish, and Anemone Demoiselle. This fish is sometimes sold as the Percula Clown, even though it is not. The color pattern is very similar, but it is not as bright orange. The Captive-Bred Ocellaris is usually significantly lighter in coloration and is often missing one or more stripes. It may also have non-symmetrical stripes on the sides of its body, making the Captive-Bred Ocellaris Clownfish unusual and appealing to most hobbyists. The coloration of these fish will darken to a nice solid orange with age.
This Clownfish is an aggressive eater. It will accept most meaty foods and frozen herbivore preparations.
Approximate Purchase Size: 1/2" to 1";
Supplies You May Be Interested In
Customer Testimonials
Ian T.
Greenwich , CT
Great Fish! 2 were the first addition to my FOWLR 50G tank. They are hardy, good eaters, and friendly. Highly recommended.
Nathan K
Charles Town , WV
This is a great little fish! He is very attractive and entertaining as he zips around the aquarium. He gets along with my Blue Tang, Lawnmower Blenny, and Blue/Green Chromis. Now, I just need an anemone!
Andy S
Seattle , WA
A must have for any house with kids; this fish is so easy to take care of! Hearty eater that travels all over my 29 gallon tank and it's unique swimming style really makes it interesting. This is a very peaceful fish and it's bright orange body with white stripes are truly beautiful!
Adam R
Englewood , NJ
My Ocellaris Clownfish is great. He gets along great with my Yellow Tang, Naso Tang, Sleeper Gold Head Goby, and my Flame Hawkfish. You should purchase this specimen!
S. O
Clinton , UT
I love my clown fish, and so does my three year old son! They are all Nemo to him. I order two and I have to say they were very sneaky. When I was acclimating them to the tank they found that they could tip the bag over and slip into the tank before I was done, but they are fine. They love to play with my son, following him as he runs from one side of the tank to the other. I would recommend that tank bred clown fish be ordered over "wild" because they are already used to being in a tank and that makes it easier on them.
Ben D
Albuquerque , NM
An unbelievable value. The fish arrived and were as lively as I have ever seen.
James M
LaPorte , IN
This particular clownfish is an excellent fish. I have purchased five and am glad I did. They have one of the best personalities I have ever seen in a fish. They're great for a reef tank with peaceful tankmates. The white and orange is striking. They are very entertaining and remind me of why I started the hobby.
S.W. S
Norfold , VA
I am delighted to report that an Ocellaris Clownfish came into my recently cycled tank with four Damselfishes in residence. There was not one incident of aggression from any of the fish. A normally stress filled situation of first-fish purchase was abated with the addition of my Ocellaris Clownfish. She's a fantastic addition to my new tank. 
Carolyn H
Albany , GA
This is a wonderful fish. I love mine, he's so friendly and colorful. Also not to mention hardy. Perfect for every aquarium!
Cody L
Northville , MI
Thank you Liveaquaria.com for providing me with such a nice little Clownfish that didn't even hide when I introduced him. He started exploring the tank and observing the snails with his cute little eyes!
Houston B
Nashville , TN
This Clown could not have more personality! I have one in my FOWLR and he is just too incredibly cute, as well as amazing to watch. Mine has now started to (starting about 2 months ago) hosting my fake anemone. He is a joy to have.
Lindsey C
Stockton , CA
Beautiful, hardy, and well suited to life in a tank as they are tank reared. Mine has become so friendly, she wags her tail like a little puppy dog to greet me everyday and she will accept food from my hand. I recommend tank bred Ocellaris to any wild caught specimen hands down! Added bonus: Less likely to harbor diseases found in wild caught specimens.
Marty K
Perkasie , PA
Love this fish! My son named him Nemo, of course. I think I have pulled him out of my bio cube filter a dozen times so far, so he is living up to his name. He gets along great with all my other fish.
Matt M
Agawam , MA
The world's most recognized pet fish! Kids all know it not as a Clownfish, but simply "Nemo". But all along, this fish is simple to keep, fun to watch, peaceful, and brightly colored. If you are just getting started with saltwater fish, this fellow is a must! Watch the Ocellaris Clownfish swim all over your tank bobbing up and down. You'll get a kick out of them "begging" for food and checking out your arms whenever you algae scrape. Cute, fun, easy to keep...a perfect fish for beginners and experts.
Beau B
Swanville , MN
I just got two of these Clownfish and I love them!! They swim back and forth with each other. I'm really glad I got these fish. They are the perfect addition to any aquarium!
Sherry K
Hillsdale , WY
I'd recommend keeping at least two of these. Mine are always side by side and very affectionate to each other. They are sweet and peaceful fish.
Adam H
Clarksville , TN
I have a 29 gallon saltwater fish tank im a first time saltwater hobbyist and my clownfish light up my reef set up with there color i really like my clownfish!
Seth P
Omaha , NE
If you host with an anemone you MUST BE PATIENT as it took 2 months for mine to host my BTA.
Levi S
Laurel , MT
beautiful, lively, and shipped with care. not to mention the best customer service i've ever seen!!
Eric P
Brooklyn , NY
Most beautiful fish i have ever seen they love my tank and are swimming happily exploring even thou they are still a bit shy.
Erik V
Queens , NY
What can I say that hasn't been said already about this and a Entacmaea Quadricolor? You will not be disappointed.
Robert H
Philadelphia , PA
Absolutely love this fish. They came in great condition and fed almost an hour later after acclimation. Great personality and fun to watch. Even with powder blue tangs and sailfin tangs in my tank these clownfish are still any visitors favorite fish. Great to start out a any tank with.
John-Gabriel B
Wall Township , NJ
Colorful, Active, and Easy starter fish! They will accept many sorts of food with great pleasure. False Percula Clowns are also very active and swim with enthusiasm!
V S
Atlanta , GA
My 2 gorgeous Ocellaris came perfect. They acclimated great and quickly became the show fish in the aquarium except the yellow tang. Overall, I would recommend these hardy, easy to care for, peaceful and beautiful fish to anyone. Thank you Liveaquaria!
Timothy M
Brackney , PA
Before I bought my first fish for my first aquarium, I did a lot of book and online research. The nearly unanimous recommendation of experts for a 'first fish' is a tank-bred ocellaris clownfish. They were right! I've bought 9 fish now, and clowns are the easiest and best. They eat well and are active and curious, always interested in what's going on outside the tank. Pay the extra for tank bred. It makes a HUGE difference, because the tank bred are used to glass walls, fish food, and human interaction. And disease is rare. Wild caught clowns have a relatively high rate of internal parasites and other problems. I bought two, and they have formed a happily mated pair, which is really cute.
Heather S
Mount Orab , OH
I can just say this is the perfect fish for a Reef tank. I have two and they are great together and do not bother any of my tank inhabitants. They are busy all day swimming around the Reef and enjoying each others company, such beautiful fish.
Andre M
Flushing , NY
I've never purchased aquarium fish other than from a retail store before, so naturally I was nervous. How impressed I was! I ordered two False Percula Clownfish and they look very healthy and are doing great!
Melanie R
Naples , FL
This is the best fish for a saltwater tank. They are brightly colored and hardy. Mine loves to follow me when I walk by the tank and will even eat out of my hand. He doesn't bother my corals, other fish, or invertebrates. He never hides and likes to swim out in the open all day and night. I highly recommend this species!
Eric D
Deltona , FL
I got two of these Tank-Bred fish. Cool little fish! I love them. They are my fav. I have 29 gallon and they fit my tank very well!!