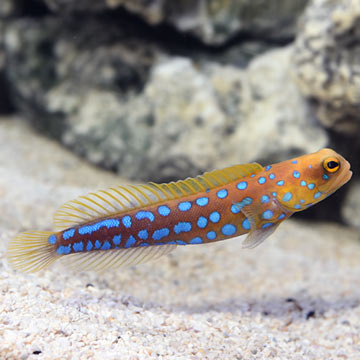 Please Note: Due to variations within species, your item may not look identical to the image provided. Approximate size range may also vary between individual specimen.

SAVE up to 30%!
Jawfish, Blue Dot
(Opistognathus rosenblatti)
Additional locales and sizes may be available!
Overview
The Blue Dot Jawfish, also known as the Bluespotted Jawfish, was first discovered in the Tropical Eastern Pacific in 1991 by Allen and Robertson. This lively fish boasts bright, flamboyant coloration in contrasting shades of yellows, oranges, and blues with iridescent, irregular-shaped blue spots decorating the entire length of the head and body.
The ideal setup for the Blue Dot Jawfish is an established 30 gallon or larger aquarium with plenty of live rock and a layer of fine to moderately sized sand substrate to sift through. Ample horizontal living space and a substrate layer of at least 3" in depth is necessary for this burrowing fish. In addition, a tight-fitting canopy is necessary to prevent the Blue Dot Jawfish from jumping out of the aquarium. It will rarely become aggressive towards other fish, but is territorial and will fight with its own kind unless they are a mated pair.
The diet of the Blue Dot Jawfish should consist of a variety of marine fish, crustacean flesh, and mysid shrimp. It should be fed at least three times per day.
Approximate Purchase Size: Medium: 2" to 3"; Large: 3" to 4"
Supplies You May Be Interested In
Customer Testimonials
Ted S
Riverside , CA
This fish has a great personality, and is very active. Reminds me of a puppy.
Pam C
Huntington , VT
I recieved a beatifully colored 4" fish who ate right away and got busy digging out his lair under a giant piece of rock. This fish is busy as a beaver and moved an enormous amount of substrate (about 2 cups) in creating his den. Very comical fish. He opens his mouth REALLY wide when other fish swim by but they ignore him:) Very uniquely colored fish with a silly side.
Jay P
West Palm Beach , FL
Great Specimen I received from liveaquaria. All was well, spectacular colors, this fish definitely has personality. The one thing I didn't have was a glass canopy, and much to my dismay, after the 3rd day in my tank, I woke up to sushi on my floor in the front of my 55 gallon. heed the warning, Make sure if you are going to drop a cool hunch on this fella, make sure your tank has a cover. #expensivelesson
Rebecca Connors
Waterford , WI
The jawfish I received today is beautiful! He certainly looks ready to hold his own in my tank!
Elias H
Lafayette , IN
This jawfish was incredible. Colors were immaculate! Way better than the previous one I got at the local fish store. Active, great coloration, and healthy. And I got it on sale for an unheard of price!!! What could be better? Can't wait to order from you guys again!
Esther Hebert
HARVEY , LA
Love the personality of this fish. Not intimidated easily, he is definitely bold and will peer curiously out of his burrow. The color is like pictured and described (orange/brown with blue spots). Im glad I bought it at a sale price. Since its pricey, I would suggest getting a cheaper jawfish, like the equally cute pearly jawfish instead.