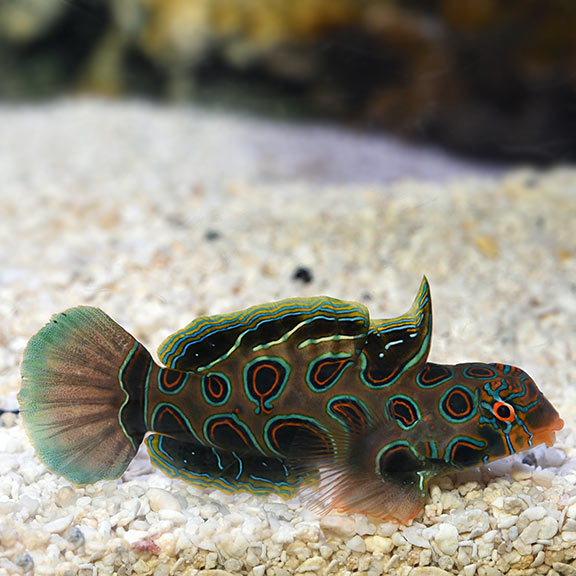 Please Note: Due to variations within species, your item may not look identical to the image provided. Approximate size range may also vary between individual specimen.
Overview
The ORA® Captive-Bred Spotted Mandarin, also referred to as the Spotted Mandarinfish, Psychedelic Mandarinfish, Psychedelic Fish, or Picture Dragonet, was first found in the Western Pacific Ocean in 1976 by Peters. The head, fins, and body are a psychedelic combination of blue, orange, and black spots on a green base. Males may be distinguished from females by their more-elongated first dorsal spine. Only keep one male per aquarium since two males will fight.
It requires a 30 gallon or larger aquarium with live substrate and plenty of hiding places. It is moderately hardy in reef aquariums if given special care. It is not overly aggressive towards other fish, except for conspecifics.
ORA was the first to introduce significant numbers of captive-bred Mandarin Dragonets, also known as Mandarin Gobies, to the commercial aquarium market. The striking colors and patterns of the Mandarin make them one of the most popular and common marine aquarium fish on the market, but the wild-caught specimens have a reputation as being difficult to feed and maintain. Those concerns are resolved as ORA Mandarins have been raised on a variety of prepared foods. Hobbyists of all levels can now own and enjoy these easy to keep Mandarin Dragonets thanks to the research and production efforts of ORA.
ORA's captive bred mandarins will accept a variety of prepared frozen and dry foods upon acclimation to their new tank. They may be offered Nutramar Ova, finely chopped Hikari Frozen Blood Worms, fish roe, frozen or live baby brine shrimp, frozen daphnia, and New Life SPECTRUM Small Fish Formula pellets. Some have also shown interest in Cyclopeeze. However, in a reef tank, they often will default to the naturally occurring live copepods found among live rock. We also recommend AlgaGen Tisbe biminiensis.
Synchiropus picturatus is a peaceful fish that will fare best in the established reef tank provided there are no aggressive tank mates that may compete for food.
Approximate Purchase Size: 1" or Larger
Supplies You May Be Interested In
Customer Testimonials
No testimonials have been submitted for this product.