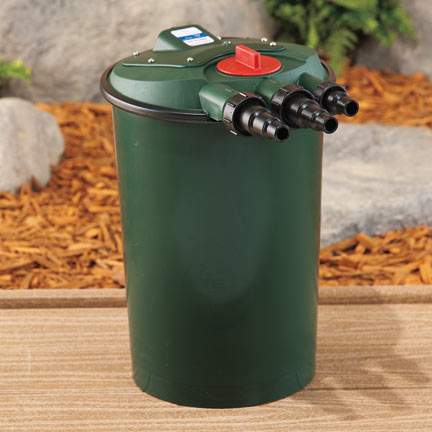 Overview
| | |
| --- | --- |
| * | Pressure filter with combined UV, mechanical, and biological filtration for clear, purified water |
| * | Easy to install and maintain - bury above or below pond level |
| * | Auto-clean with the turn of a knob with PowerClenz feature |
These external pressure filters can be buried above or below pond level, and feature 3 different types of filtration to keep your pond water super clean and healthy. Water first flows by a UV lamp to clump algae, and is pushed through specially-developed sponge pads to trap particles, and finally passes through the SUPRA biological filter medium for ammonia and nitrite reduction. To maintain, simply turn the PowerClenz knob to the "CLEAN" position, and up to 1,000 lbs of pressure forces out the sludge - instant fertilizer for the garden! Includes universal barbed tubing connectors. Requires appropriately sized pump and tubing, sold separately.
Model
UV
Dimensions
Inlet/Outlet Size
Flow
Rate
(gph)
Pond
Size
(up to
gallons)
PUV-2000

9 W

16" x 11" diameter

3/4" to 1-1/4"

450-1300

2000

PUV-9000

36 W

22" x 15" diameter

1-1/4" to 1-1/2"

3000

9000
Setting up the Filter
Choose a suitable site for your filter where:
Power supply can be safely run to the filer and be protected against damage from garden equipment, children, and animals.
The filter must be either buried with Clamp at least 1" above ground on a firm base (such as a paving slab). Make sure that the filter cannot fall into pond.
The selected area is well away from flammable items.
Water supply hose can be run from your water pump and back to the pond or to the waterfall.
The water return is not feeding back to the pump inlet.
Sludge hose (when attached) can reach a drainage area, preferably lower than the filter to get best filter cleaning.
Assembling the Filter
Open Clamp and remove Lid by carefully lifting vertically.
Remove Bio Tray with Lid.
Pull off Bio Tray. Fill Tray with SUPRA bio media and re-fit Lid.
Remove UV-tube, by turning counterclockwise 1/8 of a turn, and pull. Make sure the Quartz Tube is not cracked. Re-fit UV-tube so that the arrows align.
Make sure Foam Support is in place with Legs pointing down. Fit bottom Foam, making sure Foam is in the center of the filter. Fit Top Foam and Bio Tray.
Re-fit main Lid, making sure that the main O-ring is in place and fit Clamp.
Plumbing the Filter
Choose suitable tubing and secure with hose clamps. The water Inlet and Outlet adapters will accept 3/4", 1", or 1-1/4" tubing.
The water return should be as far away from the pump Inlet as possible to help water flow in the pond.
Fit Sludge Blocking Cap.
Set the Dial to the "RUN" position, then turn on pump and run filter for 10 minutes to make sure there are no leaks.
Connecting Electrical Power
A ground fault circuit interrupter (GFCI) must be fitted to the power supply. Once the filter is assembled, connect power and confirm lamp is working by looking at the Lamp Indicator. Never look at the UV Lamp directly as it produces UV-C light, which may be harmful to the eyes and skin.
Operation
The filter is now ready to run.
Set the dial to the "Run" position and switch on pump and then the filter.
The water should start to clear in 2 to 3 weeks, but full clarification may take 1 to 2 months. If the pond water is very green, a partial water change should be made before staring the filter. The filter should be run 24 hours a day during the pond season. Once there is a risk of freezing, drain the filter and move the filter indoors.
Maintenance
Weekly Maintenance
The filter should ideally be cleaned once a week. In cooler weather, the filter will not need to be cleaned as often.
The waste coming out of the Sludge Hose is suitable as a fertilizer for most established plants. The waste is rich in nutrients and excessive use could be harmful to delicate plants.
Note: The PowerClenz is designed only to remove the excess waste in the filter and leave behind a useful amount of biologically active deposit. Also, a Foam Filter cleaned by PowerClenz will collect pond waste more effectively than a hand-cleaned Foam.
Remove the Sludge Blocking Cap and fit Sludge Adapter with approximately 3 ft of 3/4" flexible tubing.
Place the end of the tubing connected to the Sludge Adapter as low to the ground as possible to aid the cleaning cycle.
Turn the Dial to the "Clean" position for 30 to 60 seconds. You may see flow decrease when the Foam is fully depressed, indicating that the cleaning cycle can be ended. No further cleaning occurs after the Foam is fully depressed so the filter should not be left in this position. It is recommended to repeat this cleaning process after first turning the Dial to the "RUN" position for 20 seconds.
Remove Sludge Adapter and re-fit the Sludge Blocking Cap. Note: After the PowerClenz "Clean" cycle, some dirty water may come out of the Outlet.
Mid Season Maintenance
During the height of summer, the filter may need to be cleaned more thoroughly to keep it in top performance.
Disconnect power to the pump and filter.
Open Clamp and remove Lid.
Remove Bio Tray and rinse in pond water (never in tap water).
Remove Foam and clean in pond water (never in tap water). Do not over-clean as this will reduce efficiency.
Remove Foam Support and if there is a lot of sludge in the bottom of the bucket, remove it.
Re-fit Foam Support (with Legs pointing downward), Bottom Foam, Top Foam, and Bio Tray, making sure the Foams are in the center of the filter.
Remove the UV-tube - turn counterclockwise 1/8 of a turn and pull.
The Quartz Tube can be carefully cleaned with an aquarium cleaning pad.
Make sure the UV-tube is clean and refit by turning clockwise 1/8 of a turn. The two pointers should line up when fitted.
Re-fit main Lid, ensuring that the main O-ring is in place. Re-fit Clamp and close.
Connect power to pump and then filter. Check for leaks.
Annual Maintenance
In addition to the Mid Season Maintenance, it is recommended to replace the UV Lamp, Filter Foam, Piston, and O-ring.
UV Lamp Replacement
The UV output of the lamp reduces over time and after 12 months running, should be replaced. Note that the lamp will continue to give off light even though it no longer emits the proper UV light. It is recommended that the UV lamp is replaced at the start of the summer so it is at its most efficient when the need for UV clarification is greatest.
Disconnect power to pump and filter.
Remove electrical lid by removing 6 screws.
Carefully remove the UV Lamp by pulling the UV Lamp away from the Lamp Holder.
Make sure your new Fish Mate UV lamp wattage is the same as the UV Lamp being replaced by checking the wattage on the UV Lamp.
Fit lamp by pushing new UV Lamp into Lamp Holder.
Re-fit Electrical Lid, replace O-ring if necessary.
Connect power to pump and then to filter. Check for leaks.
Check the Lamp Indicator to confirm UV Lamp is working.
Filter Foam, Piston, and O-ring Replacement
The performance of the Foams, piston, and some seals (O-rings) will deteriorate over time and should be replaced annually.
Installation Instructions for Fish Mate Pond Pumps
For optimum results, locate the pump at the opposite end of the pond to the filter return. The pump comes standard with pond-life friendly slots to help protect spawning life.
For your convenience, the pump should be positioned within reach from the side of the pond on a solid platform (e.g. paving slabs) approximately 12" below the pond surface. The pump should be at least 8" below water level to avoid problems of low water levels in summer. If desired, the Base Plate may be screwed down for extra stability. Avoid positioning the pump at the bottom of the pond where pond debris will accumulate and maintenance will be difficult.
Maintenance
Disconnect electrical supply from pump before removing from pond or contacting pond water. Do not carry or pull the pump by the cable.
When flow from your pump is noticeably reduced or fountain display has deteriorated:
Remove Strainer Cover and clean with a brush and hose. Remove any weed or blockage on Impeller Cover.
If you are using a fountain, remove and clean fountainhead in water with a brush.
Re-assemble. If the flow is still poor, check to see if outlet tubing has become kinked or blocked.
Once a year or if flow is stopped (Check power supply first)
Disconnect electrical supply from pump before removing from pond or contacting pond water. Do not carry or pull the pump by the cable.
Disassemble pump to component parts. Wash all parts in clean water and re-assemble the pump. The recommended disassembly procedure is as follows:
Disconnect all items fitted to pump Outlet.
Remove Strainer Cover and lift Pump Body from Base Plate.
Remove Impeller Cover by rotating counterclockwise, then remove Front Bearing and Rubber Mount by hand or careful use of pliers.
Carefully pull out Pump Impeller and Magnetic Rotor.
Remove Rear Bearing and Mounting Bushing by pushing firmly from behind with a flat-faced tool.
After cleaning all components: Check for wear of Bearings at either end of Rotor. Check for wear of keyway on Rotor or inside of Impeller. Check that one-way Arm moves freely. If not, carefully pull it out using a tapered (needlenose) pliers and clean. Check cord and pump body for any damage or deterioration and discard pump if suspected faulty.

Re-assemble all parts in reverse order. Place Rear Bearing and plastic Mount onto Magnetic Rotor before pushing firmly back into position. Whenever the Impeller Cover is replaced, make sure the Front Bearing and Rubber Mount are pushed squarely and firmly into position.
Customer Testimonials
No testimonials have been submitted for this product.