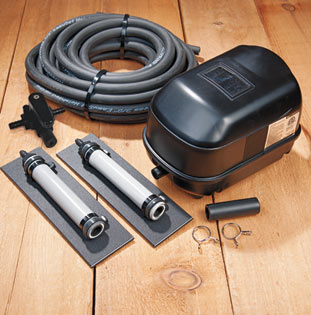 Overview
| | |
| --- | --- |
| * | Aeration kits help your pond life become healthier by raising oxygen levels |
| * | Highly efficient aeration kits have everything you need to ensure year-round pond aeration |
| * | Kits for aeration feature low-maintenance PTFE membrane sticks |
Keep your pond or water garden aerated all year long with our own highly efficient, yet cost efficient professional aerator. Like all aerators, our Water Garden Aerator provides oxygen and movement to ponds and water gardens to lower surface freezing, promote efficient bio-filtration, and slow algae growth for conditions suitable for fish. Aerator kits include diaphragm (dual diaphragm in 5,000-8,000 gallon) for maximum circulation and oxygenation, energy-efficient compressor, easy-clean PTFE membrane sticks, and other components to ensure proper pond aeration. Easy to install. Two sizes. UL-listed. 3-year manufacturer's warranty.
5,000-8,000 Water Garden Aeration Kit Includes: two 15' sections of weighted airline, 2 PTFE Diffusers (each 10" x 3") with 7" x 7/8" diameter diffuser tube, 4 ft max depth, 2 hose clamps, one 2.25" rubber coupler, and 6 ft cord. 35W, 1.7 CFM.
For best results and to prolong the life of the compressor, protect your compressor with a cover.
| | | |
| --- | --- | --- |
| Model | 2,000-5,000 gal | 5,000-8,000 gal |
| Pond Size | 2,000-5,000 gal | 5,000-8,000 gal |
| Tubing | 15 ft, 5/8" self-weighted | two 15', 5/8" self-weighted |
| Diffuser | 1 plate - 1 membrane stick | 2 plates - 2 membrane sticks |
| Watts | 17 W | 35 W |
| Airflow | 0.8 CFM | 1.7 CFM |
Installation instructions
Decide on a location for compressor. It's important to elevate the compressor a few inches above ground level, making sure the compressor is above the pond's water surface. If power is not available at the pond's edge, the compressor may be located at the power source and extra airline can be added (up to 100') to reach your desired diffuser location. NOTE: It is recommended that the compressor be covered and not exposed directly to the elements. This can be accomplished by purchasing a small Faux Rock Cover http://www.drsfostersmith.com/product/prod_display.cfm?pcatid=23818 or otherwise ensure it will keep water from coming in direct contact with the compressor and that there is plenty of ventilation.
Connect the weighted airline to the outlet on the compressor as well as to the diffuser. Use a clamp at both ends and securely tighten using a flat head screwdriver or 3/8" socket/nut driver. Find a location in your water garden to place the diffuser.
If you have the 5,000-8,000 gallon kit, distribute the two diffusers equally throughout the water garden. Do not exceed the max depth rating when placing your diffusers. Depths in excess of this rating will greatly reduce airflow to the diffuser and cause excess strain on the compressor reducing its life expectancy.
In case of extreme temperatures (hot or cold), it is recommended to relocate plates from the deepest points of your pond.
For 5,000-8,000 gallon unit only
Adjust control valves to balance airflow between diffusers, if desired. It is not necessary to have even airflow between diffusers, nor will it have any effect on the life expectancy of the compressor.
Customer Testimonials
No testimonials have been submitted for this product.