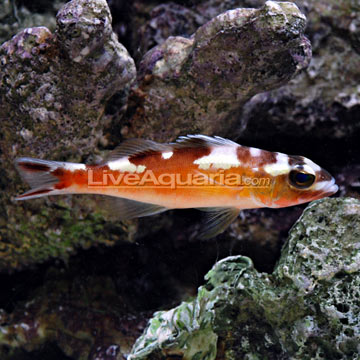 Please Note: Due to variations within species, your item may not look identical to the image provided. Approximate size range may also vary between individual specimen.
Overview
The Tobacco Basslet is alternately referred to as the Tobacco Fish, or Tobacco Bass, and is common in the tropical Western Atlantic. The body is a light gray on the bottom and a black and silver mottled pattern dorsally, split from each other by an orange band.
This basslet is a very hardy aquarium species and does best in the fish only aquarium or reef aquarium with caution. Larger Tobacco Basslets can can pose a threat to small crustaceans and smaller fishes, especially tiny damselfish, small gobies, and blennies. A single individual should be maintained in a minimum of a 70 gallon tank, while more than one requires at least 125 gallons. Even so, the Tobacco Fish may try to dominate smaller members of the same species, so it is best to introduce several Tobacco Basslet into the aquarium at the same time if the plans are to maintain a small group.
True of all members of the Serranus genus, the Tobacco Basslet is hermaphroditic.
As a carnivore, the Tobacco Basslet will thrive on a diet of meaty foods such as finely chopped fresh or frozen marine fish, squid, mysis shrimp, enriched brine shrimp and frozen carnivore preparations.
Approximate Purchase Size: Small 1/2" to 1" Medium 1" to 2"
Supplies You May Be Interested In
Customer Testimonials
Timothy L
Oceanside , CA
I have observed over the past year that this fellow enjoys hovering underneath a rocky overhang until he is hungry. At times he will begin swimming all through the tank looking for a bite to eat. It doesn't harass any of its tankmates at all. The Tobacco Basslet is a good community fish in my opinion.
Danny B
Duluth , GA
Out tobacco basslet lives in a FOWLR tank and is an active fish, but not highly attractive. Definately not reef safe, it will eat any shrimp. We feed it goldfish as a treat, and it will quickly swallow several at one time. Easy to care for and very hardy, it is peaceful toward anything it cannot swallow.