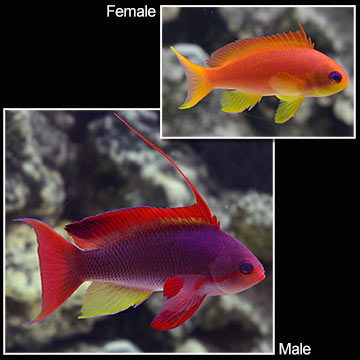 Please Note: Due to variations within species, your item may not look identical to the image provided. Approximate size range may also vary between individual specimen.
Lyretail Anthias
(Pseudanthias squamipinnis)
Additional locales and sizes may be available!
Overview
The Lyretail Anthias is the social butterfly of marine aquariums. This eye-catching fish is incredibly active and helps draw out shier fish that share the aquarium. The Lyretail Anthias is also known as the Scalefin and the males have bright red coloration of varying hues while the female Lyretail Anthias tends to be more orange in coloration.
The Lyretail Anthias does best when kept in a group and housed in a species-specific aquarium of at least 125 gallons in size. Male Lyretail Anthias are best kept alone or with several females. Though the Lyretail Anthias generally occupy the middle of the aquarium, it appreciates the availability of several hiding places.
Anthias species all share the trait of being hermaphroditic. If a dominant male perishes, the largest female of the group will often develop into a male to take his place.
Once acclimated to a new aquarium, anthias do best when fed a varied diet of frozen mysis shrimp, enriched frozen brine shrimp, and over time may eat high-quality flake foods offered in small quantities throughout the day. An attached refugium cultivating copepods and amphipods provides a steady supply of nutritious live food sure to keep this active planktivore content.
Approximate Purchase Size: Small: 1-1/2" to 2" Medium: 2" to 3" Large: 3" to 4-1/2"
Supplies You May Be Interested In
Customer Testimonials
Art W
Enterprise , AL
We purchased two females and one male. They are beautiful and after only 24 hours in the quarantine tank, they started eating zooplankton. After two weeks in the quarantine tank, we added them to their 75-gallon tank. These are beautiful creatures! If you are going to purchase them, you should at least have a reef tank to ease their transition from the wild to captivity. They have taken over the right side of the tank. I have ordered many live creatures online and found that LiveAquaria.com is great. This won't be my last order! Did I mention that the SHIPPING IS GREAT!?!
William D
Enterprise , AK
These are great fish to add to a reef tank. I definitely recommend them to hobbyists. Feed them zooplankton at least twice a day without overfeeding.
Keli S
Maitland , FL
Although I can get almost any type of fish here in Orlando, since we have so many stores, I've never seen an Anthias this beautiful! My male is about 3" long, very fat and extremely colorful! Very healthy! I wanted to get a fish in the mail to see what it was like, and it was definitely a great experience! This is a particularly beautiful fish to add to a reef aquarium, and mine ate the first day, although it took him a few days to come out and swim freely. I'm ordering a female for him now!
Michael G
Angier , NC
I bought several of these a few weeks ago. I am very pleased with them and would recommend them to anyone wanting to add color to their aquarium. They adjusted and began eating mysis shrimp within an hour. Seem to be very hardy fish.
Annoymous
LA
The male is far more beautiful in person then the picture portrays! Acclimated very well and was eating mysis shrimp within 48 hours. 8 days later he ate mini formula one pellets with the rest of the active feeders. I highly recommend this fish!
J Jones
Roberts , WI
Have been very pleased with the three females I received. After the first day they swam around my 120 like they owned it. They immediately ate some frozen mysis and frozen brine, but they CHOW my frozen Fish Frenzy. Seems like the largest female is becoming the male. Couldn't be happier with my order.
Jeff D
Arlington , TX
Beautiful fish, hid the first but now he is out and eating heartily and drawing out the shy fish. Arrived a little stressed (color was striped) but by day two his color is awesome.
Tammie G
Puyallup , WA
I received my male and 2 female anthias today. The male is huge! Great specimens,they are very active in QT after only an hour. Very healthy