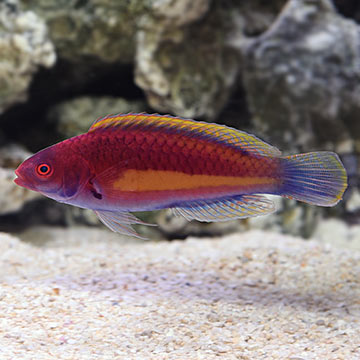 Due to variations within species, your item may not look identical to the image provided.
Overview
The male Velvet Multicolor Fairy Wrasse, also known as the Yellowstreaked Fairy Wrasse or Yellowband Wrasse, has a bright maroon body, with a horizontal yellow streak on the side. There are blue stripes on the dorsal and anal fins. The females generally are not as colorful. They are olive green and purplish blue, and have two rows of red spots from the base of the pectoral fin to the tail.
A 90 gallon or larger aquarium, either fish-only or reef, provides a good habitat. This species prefers dim lighting. The Velvet Multicolor Wrasse will not bother corals or invertebrates, making them a perfect addition to any reef aquarium. These wrasse like to jump, so a tight fitting canopy is recommended.
The Velvet Multicolor Fairy Wrasse diet should include vitamin enriched frozen mysis shrimp, vitamin enriched frozen brine shrimp, and other meaty foods along with a high quality marine flake and marine pellet food.
Approximate Purchase Size: Small 1-1/2" to 2", Medium 2" to 3", Large 3" to 4"
Supplies You May Be Interested In
Customer Testimonials
Shawn G
Baltimore , MD
I have to say, I am extremely impressed with both my Wrasse and Live Aquaria service. My delivery was delayed during shipment and arrived a day late. Not only was this fish thriving, but absolutely beautiful as well. A tribute to the quality and care given to the livestock and customer!
Dan D
Blue Point , NY
I RECIEVED A BEAUTIFUL SUPERMALE FROM DIVERS DEN AND HE IS STUNNING.ATE RIGHT OUT OF THE BAG AND EATS EVERYTHING.VERY ACTIVE AND BEAUTIFUL.CAUTION COULD BE AGGRESSIVE TOWARDS OTHER WRASSES.