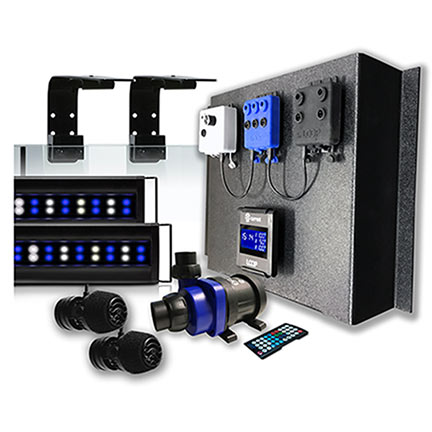 Overview
| | |
| --- | --- |
| * | Controllable aquarium light, water movement, & return pump system |
| * | Modular components allow simple, integrated installation & control |
| * | High tech core components to equip 48"-60" long marine aquariums |
Awesome package deal includes high tech controllable LED lights, wavemakers, and return pump to streamline product selection and automate aquarium functions, all at a great value. 48" Current LOOP Marine Bundle Orbit Marine IC PRO LED Light, Wave Pump, & DC Flow Pump Kit includes the core components needed to equip your 48" to 60" marine aquarium. Innovative LOOP control system connects and syncs everything into a single, wirelessly controlled network for unprecedented ease of use. Ideal for 48" to 60" long marine aquariums including fish only, fish-only-with-live-rock, and reef setups with soft corals.
What's Included
48" LOOP Marine Bundle System includes the 48" Orbit Marine IC PRO LED Lighting System (two Orbit IC LED fixtures with adjustable docking legs), adjustable tank mount arm brackets, two controllable eFlux Wave Pumps, one controllable eFlux DC Flow Pump, DC UL approved power supplies, wireless LOOP IC Lighting & Wave Pump Controller, DC Pump Controller, mounting hardware and a Power Control Center.
Full spectrum output with Dual Actinic blue producing high PAR for strong coral growth and color
Advanced 90-degree optical lens technology provides superior color blending, and penetration
Solid aluminum construction, IP65 water resistant
IC LED chips provide unique light motion effects
Adjustable docking legs provide the perfect fit for aquariums
Produces ideal color spectrum for vibrant shimmer and color in marine fish, soft corals and live rock aquariums
Orbit Marine IC PRO LED Specifications
Model
48" - 60"
Mfg# 4227
Fits Aquariums

48" - 60"

Max Watts

92

Dimensions

46.8" x 7.5" x 0.44"

LEDs
Dual Actinic
LEDs
445nm/460nm
48/48
Dual Daylight

6,700°K/ 10,000°K
36/36
RGB LEDs
24
Total LEDs

192
LOOP Light & Pump Controller
The wireless LOOP IC controller and included wave pump HUB provide everything needed to control included 1,050 gph EFlux Accessory Wave Pumps. Simulate wave pulses or surging water currents found on coral reefs with the touch of a button.

Programmable 24-hour daily timer
Adjustable dawn, daylight, dusk and moonlight color
Program daily weather patterns or use on-demand
Actively moving weather effects including rolling cloud
Connect & control included EFlux wave pumps
Includes wireless IR remote, Bluetooth upgradeable
eFlux DC Flow Pump with Flow Control Hub
Included 1,900 gph eFlux DC Flow Pump with Flow Control delivers powerful flow rates with high pressure you can control with a turn of a dial. Low voltage pumps boast low energy consumption and features an "intelligent" active feedback system that monitors performance, detecting and alerting you of anomalous pump operation.

Submersible or external (inline) use
Sealed DC motor and magnetic drive design
Quiet operation
Adjustable flow
Soft start gently ramps pump to speed
IC electronic detection protects pump if no water is present
Current Orbit Marine IC PRO LED System Wireless 24-hr Lighting and Wave Pump Control
Quick Start Guide
Fixture Installation
Step 1
Unpack light fixture and components. Remove any plastic film on light fixture.
Step 2
Slide the adjustable docking legs on the side of the light fixture to match the length of your aquarium. (Refer to Orbit Adjustable Tank Mounting Bracket or Orbit Hanging Kit instructions if using those instead of sliding docking mounts.)
Step 3
Set fixture on aquarium and ensure docking legs fit snug on edges of aquarium.
INSTALLING LOOP IC CONTROLLER AND IC LIGHT & WAVE PUMP MANIFOLD HUB
Step 4
Choose a location underneath your aquarium cabinet free of excessive moisture and/or saltwater creep. Note: If you want the LOOP IC Controller (F) outside cabinet, ensure the mounting location is 8-12" away from where the IC Light & Wave Pump Manifold HUB (D) will be mounted.
Step 5
Using included wood mounting screws, mount the IC Light & Wave Pump HUB Manifold (D) and LOOP IC Controller bracket to stand. Slide the LOOP IC Controller into bracket. Velcro® tape is also included as an optional attachment method.
Step 6
An IR receiving sensor is located on the front of the LOOP IC Controller and is what receives control and on-demand signals from the wireless remote. An additional remote IR sensor is included in case you choose to mount your LOOP IC controller underneath your aquarium stand. To mount sensor, unwrap cable and attach the IR sensor to your stand using the stick tape. Ensure cable can reach IC light manifold HUB.
About Current
Current USA focuses on "What's Next" for the aquarium hobby. From their TrueLumen PRO LED strips, Satellite line of freshwater LED lights to the Orbit Marine saltwater reef LEDs, Current USA is changing the way people experience their aquariums.
Customer Testimonials
No testimonials have been submitted for this product.