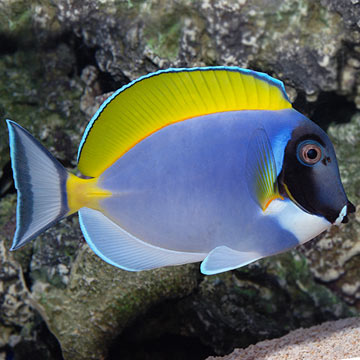 Please Note: Due to variations within species, your item may not look identical to the image provided. Approximate size range may also vary between individual specimen.

SAVE up to 38%!
Powder Blue Tang
(Acanthurus leucosternon)
Additional locales and sizes may be available!
Overview
The Powder Blue Tang, also known as the Powder Blue Surgeonfish, has an oval body shape with extremely colorful, bold markings. It is prized for its vivid colors and bold markings, with several varying shades of blue accented by yellow and white. Bright yellow highlights the dorsal and pectoral fins, and striking blue-black markings outline the face and tail.
A 125 gallon or larger aquarium is necessary to provide plenty of swimming room. It is extremely aggressive towards other Tangs or Surgeonfish, especially those similar in form and color, and should be the only one in the tank except in very large systems: introduce all at once if more than one is to be maintained in the same aquarium.
Although Tangs will eat meaty foods along with the other fish in the aquarium, it is important that they are offered plenty of marine based seaweed and algae. This will strengthen their immune system, reduce aggression and improve their overall health. Offer dried seaweed tied to a rock or use a veggie clip, and feed at least 3 times per week. Sea Veggies, Seaweed Salad and Ocean Nutrition are all ideal products and are very easy to use.
Approximate Purchase Size: Small: 1-1/2" to 2-1/2"; Small/Medium: 2-1/2" to 3"; Medium: 3" to 4"; Medium/Large 4" to 5"; Large: 5" to 6"
Supplies You May Be Interested In
Customer Testimonials
Mike H
Wake Forest , NC
My Powder Blue Tang arrived at my house in perfect shape. In fact he was actually about an 1" larger than we ordered. We won't buy our specimen fish from anywhere else!!!!! Thanks for everything.
Stuart P
Hornell , NY
WOW. I released my Powder Blue after an hour of acclimation and I was amazed how perfect it was. Within 4 hours, he was clearing the algae from my rocks. He now swims around constantly with my Racoon Butterfly and eats anything I feed him. I will not even think of buying from anyone else - my fish are perfect as well as your service, thank you!
Cameron E
Kingston , MA
My Powder Blue is very beautiful and a great algae grazer. He cleaned the tank over night.
Doug K
Jacksonville , FL
The Powder Blue Tang is a challenging fish to keep, and one that requires plenty of swimming room. Water parameters must be at the highest standards, as this fish is ick prone and will deteriorate quickly in sub-optimal conditions. I have kept this fish successfully with Naso, Regal, and Purple Tangs, but other Tangs with a similar body shape are best avoided.
Mark H
Cincinnati , OH
My Powder Blue Tang has been one of my favorite fish. He eats well but also very fast. Other slower fish need to struggle to get enough to eat sometimes. This fish does well in my 46-gallon tank but I can see why they recommend a 100-gallon tank. He often swims some very fast laps around the tank.
Kelly M
Great Falls , MT
WOW this fish is beautiful! This fish is a great algae grazer and hardy. I tried to keep a Blue Tang and it died so I got the Powder Blue Tang and have had it for five months now and is great!
Jack B
Philadelphia , NY
My Powder Blue came in great condition. He acclimated very well and the next afternoon he started feeding. This is my show piece fish in my 125, and I am very satisfied with how healthy he is. All my fish come from Liveaquaria.com, and I wouldn't get them from anywhere else. All are in great health. Thanks LiveAquaria for an awesome fish!
Fahad A
Elgin , IL
This was by far the healthiest fish I have ever bought since I started my marine tank 3 years ago. It started swimming around the tank right away and the next day it started to eat a lot. Right now, I have stocked my tank and if in the future I decide to buy more fish, I will definitely choose LiveAquaria. I don't know how you guys keep your fish in top shape but keep it up.
Mike
City Not Selected , MI
This is the place to go for this or any fish. About a month ago, I got one of these from a local dealer. Cost way more, didn't swim, and didn't eat. Died within two days. After only one hour of acclimating this guy, he was off doing laps in my aquarium, and by that same night, he had eaten most of the pesky algae and was eating the brine shrimp I normally feed my fish. Bottom line, these guys know their fish. The 14 day guarantee is worth the cost of the shipping alone.
C R
Cincinnati , OH
I purchased a Powder Blue Tang from Drs. Foster & Smith in early Sept 12, he arrived quickly and he is doing very well. He was a little small but is growing already.
Connie B
Birmingham , AL
PB tangs are ich magnets and rather hard to get acclimated, so I was rather hesitant about ordering one. Much to my surprise, this fish is absolutely gorgeous and healthy. He came out of the bag eating. As a precaution, I did soak his food in garlic for the first week, but he has shown no stress at all. He is a swimming, eating machine! Thank you Live Aquaria!
Willem S
Darien , CT
Got this med/lrg powder blue in my first order ever from LiveAquaria. I was definitely a little skeptical ordering through the mail but this fish surpasses all expectations! Within minutes it was actively swimming and started eating by the second day. The coloration beats any powder blue I've seen. Thanks so much LiveAquaria
Jeff Zemlak
Sewell , NJ
Finding a healthy Powder Blue Tang can be very difficult! This was the 1st fish I ever purchased from Liveaquaria.com and it was a perfect specimen. It has been in my tank for over a month and is doing very well. Great value as it was on sale! Finding a healthy Powder Blue Tang can be very difficult! This was the 1st fish I ever purchased from Liveaquaria.com and it was a perfect specimen. It has been in my tank for over a month and is doing very well. Great value as it was on sale!
Adam H
Clearwater , FL
I purchased a small/medium specimen from Africa. Considering the distance travelled and that this fish can be delicate, I can't believe how good this fish looked. Perfectly happy and healthy and willing to eat right away.
Blake S
Princeton , WV
I am always nervous when purchasing a tang, but with LiveAquaria I have peace of mind knowing they take such good care of their livestock. My powder blue arrived very healthy and quick made friends with the other new fish in my quarantine tank. I've had my tank for about 6 months and he is very healthy and growing!
Jeneal S
Twin Falls , ID
I ordered this gorgeous member of the Tang family about a month ago and he is the king of my tank. It didn't take him long to eat the freeze dried seaweed from the clip and he loves it! Not shy at all. I rarely see the tank without him front and center! Although I ordered the small size, I was impressed with the 4-5 inch beauty that came and in perfect condition too. Great personality and by far my favorite fish so far!
Liaa Dodd
Euclid , OH
Perfect! Acclimated well, started picking at the rocks within an hour of being in the tank. Very healthy and fat looking tang.
Brian S
Enterprise , AL
Amazing fish! Arrived very healthy. After accumulation and introduced to my aquarium, my new PBT began pecking and eating in no time. This was my first order from liveaquaria.com and is now my favorite place to pick up livestock for my tank. TY Liveaquaria