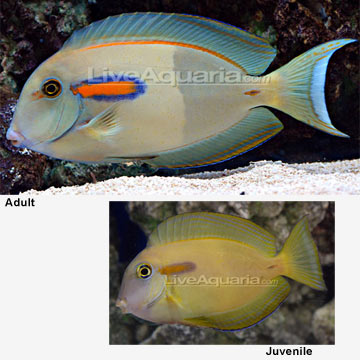 Please Note: Due to variations within species, your item may not look identical to the image provided. Approximate size range may also vary between individual specimen.
Overview
The Orangeshoulder Tang is also known as the Orange-epaulette Surgeonfish, Orangespot Surgeonfish, Orangeband Surgeonfish, and Orangeshoulder Surgeonfish. As a juvenile, it is solid yellow, with just the slightest hint of blue fringing on the anal and dorsal fins. As an adult, the front half of the body turns light gray and the back half takes on a dark gray-blue color. Above the pectoral fins is an eyecatching orange stripe that is outlined by the dark gray color. The tail takes on a lyre shape.
A 180 gallon or larger aquarium is necessary to provide plenty of swimming room. It is not aggressive towards other Tangs. If housing more than one, it is best to add a juvenile to the aquarium that contains an adult.
Although Tangs will eat meaty foods along with the other fish in the aquarium, it is important that they are offered plenty of marine based seaweed and algae. This will strengthen their immune system, reduce aggression and improve their overall health. Offer dried seaweed tied to a rock or use a veggie clip, and feed at least 3 times per week. Sea Veggies, Seaweed Salad and Ocean Nutrition are all ideal products and are very easy to use.
Approximate Purchase Size: Juvenile Small: 3/4" to 1"; Small/Medium: 1" to 1-1/2"; Medium:1 1/2" to 1 3/4"; Medium/Large; 1 3/4" to 2 1/2" Large 2 1/2" to 3"; Changing Small: 2 3/4" to 3"; Medium 3" to 3 1/2"; Medium/Large 3 1/2" to 4"; Large 4" to 4 1/2"; Adult Medium: 3 1/2" to 4"; Medium/Large: 4" to 5"; Large: 5" to 6"; X Large 6" to 7"
Supplies You May Be Interested In
Customer Testimonials
Jose Martinez
Corona , NY
I've had this fish in my tank for about 2 days now and it is a great fish in any tank. This fish is not shy at all. It is very active and does a great job eating any leftover food from the sandbed. The orange stripes on both sides make it a very interesting fish to look at.
Jerry Krueger
Milwaukee , WI
I have him in a 125 gallon and he and my kole tang are the two most active in the tank. Most of their day is spent racing each other from end to end. He is a great addition to my tank.
Mike W.
Trenton , OH
Great non aggressive tang. Eats like a hog and will not bother any fish. Can't wait till it gets its adult colors.